After 14 Years, Anakin Skywalker and the Kid He Killed Hug It Out
In 2005, Ross Beadman was 6 years old and the victim of the 'Revenge of the Sith.' Now, he's face-to-face with his fictional killer and demanding … a hug.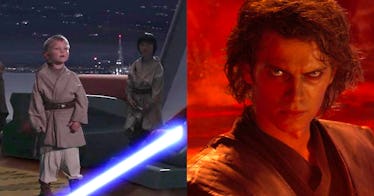 Lucasfilm
It's probably no one's favorite scene in any Star Wars movie, but it's likely one you can't get out of your brain. In Star Wars Episode III: Revenge of the Sith, Anakin Skywalker (Hayden Christensen) raids the Jedi Temple, and eventually finds a room full of children. One terrified little Jedi kid asks, "Master Skywalker, there are too many of them … what are we going to do?" and Anakin wickedly pulls out his lightsaber! Anakin's murder of innocent children is totally his most unforgivable act and probably the moment when there's no turning back from his Darth Vader destiny. Sure, Luke Skywalker can forgive Anakin, but what about actor Ross Beadman?
Now, 14 years after Revenge of the Sith hit theaters, the then-6-year-old child actor — Ross Beadman — who played the Jedi youngling is a grown-up young man. But he's not out for revenge on Hayden Christensen. Just hugs. It's an Order 66 reunion!
On Tuesday, posting on his Instagram, Beadman revealed that after a decade and a half, he and his Star Wars co-star — actor Hayden Christensen — hung out together at a convention in London this past June. The Instagram caption of the moment reads: "When you deadass hang out with the guy who murdered you."
You can see an interview with Beadman and a subsequent meeting of the two actors the video below. It's a hug and a moment that will bring balance to the Force. (Video via Fantha Tracks.)
And speaking of the least kid-friendly moments in Star Wars movies, here's the Fatherly guide to figuring out how to start watching the epic Star Wars saga with your kids for the first time. (Hint: We are very pro–Phantom Menace)
This article was originally published on