The New Adam Sandler and Lebron James Basketball Movie Is An Awesome Mystery
Is this gonna be more 'Uncut Gems' or 'Happy Gilmore'?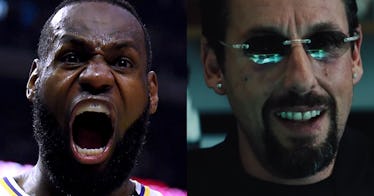 Getty; A24
After Adam Sandler joked that if he didn't get an Oscar for his tour de force performance in the 2019 film Uncut Gems, he'd make a movie that is "so bad on purpose," it appears that Sandler has decided to not make good on that promise.
Instead, per Variety, Sandler is making a film with Lebron James titled Hustle, from director Jeremiah Zagar, known for 2018's We The Animals and Sidelined. There's a promising amount of talent behind the film, with writers Taylor Materne and Will Fetters, the latter of which who was behind the 2018 reboot of A Star is Born, suggesting that the film might actually be very, very good — not the bad film on purpose like Sandler threatened-slashed-promised audiences.
The film, which will be released through Netflix, will star Sandler as an unjustly disgraced American basketball scout who finds a basketball star abroad and brings him back to the U.S. to try both of their lucks at American success. While Sandler might still have time to get a very bad movie in before Hustle, it's clear that even if he decides to try to make the worst movie possible post-Gems, that it will at least be followed by what looks to be a very good one.
But will the movie be funny, or serious? It looks like it will have a more serious-bent, and might even be a thriller-like drama that enthralled audiences with 2019's Gems. Zagar's We The Animals was a coming of age style drama, A Star Is Born is quite notoriously a bummer, and James might want to prove his mettle as a dramatic actor after an impressive turn in Amy Schumer's rom com Trainwreck and his long-awaited Space Jam 2 reboot. Whatever the movie looks like, it will most likely be an impressive one. Sandler has always been able to show dramatic turns with his acting and has range beyond what he generally gets credit for.
This article was originally published on