Adam Sandler's New Halloween Netflix Comedy Doesn't Look Terrible
The photos reveal a few members of what's a loaded cast.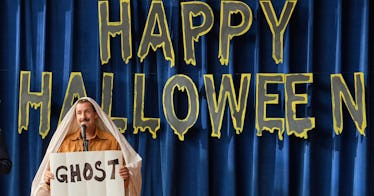 Netflix
For his first feature film since the decidedly non-silly Uncut Gems, Adam Sandler is returning to his strictly comedic roots. Hubie Halloween is a comedy that will reunite Sandler with collaborators from his past films, including Steven Brill, director of Sandler's last (very good) comedy special, Mr. Deeds, and Little Nicky.
Netflix posted four photos from the film that reveal some of the on-screen collaborators Sandler will appear with again in the film. Julie Bowen, Sandler's co-star in Happy Gilmore, and Kevin James, who hitched his wagon to the Happy Madison train a while ago appear in two of the photos. Fred Armisen and Maya Rudolph, like Sandler alumni of Saturday Night Live, also make an appearance in the photos in some A+ costumes.
Frequent Sandler collaborators Steve Buscemi and Rob Schneider will also appear in the film, with Ray Liotta, Kenan Thompson, Tim Meadows, Noah Schnapp (Will from Stranger Things), and Shaquille O'Neal (!) rounding out the star-studded cast.
The film is about Hubie Dubois (Sandler), a Salem, Massachusetts native who spends every Halloween annoyingly encouraging people to celebrate safely. His cautiousness, along with the fact that he still lives with his mom, has earned him the scorn of his fellow Salemites. The photo of James as Officer Steve Downing shows that even the police have grown weary of Hubie's schtick.
All of this seems to set up a "Boy Who Cried Wolf" scenario when a new neighbor (Buscemi) moves in and weird stuff starts happening. It all sounds like a pretty standard Sandler comedy, which makes us suspect that it's not the worst movie ever made.
Hubie Halloween will premiere on Netflix on October 7.