Adam Sandler Shows Off His 'Happy Gilmore' Golf Swing to Celebrate 25th Anniversary
"Shooter McGavin, this is for you."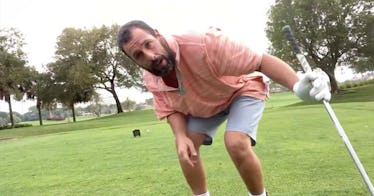 Yesterday marked the 25th anniversary of Happy Gilmore, the beloved golf comedy starring Adam Sandler as the titular hotheaded hockey player who becomes an unexpected star in the world of pro golf thanks to his superpowered swing. To celebrate the movie, Sandler even briefly reprised his role and posted a video of him as Gilmore showing off his legendary running drive.
In the video, Gilmore is at an unnamed hole and is shown to still be embracing his slob vs. snob mentality, as he is shown wearing an extra baggy polo shirt and a pair of gray shorts that it looks like he picked up at a local K-Mart. He then issues some brief trash talk to his former rival, Shooter McGavin.
"Okay, it's been 25 years since I've done this," Gilmore said as he approached a teed-up ball. "Let's see what happens. I'm scared. Shooter McGavin, this is for you."
Gilmore then does his unconventional but unquestionably effective swing, which involves getting a running start and then hitting the ever-loving crap out of the ball.
"And I'm not lying to you, that is smashed…" Gilmore said after admiring his own swing. "That went pretty well. You're dead, Shooter."
The video quickly resonated with fans, getting more than 14 million views on Twitter in less than a day. It even garnered a response from Shooter himself (played by Christopher McDonald), who could not resist dishing out a little bit of trash-talking towards his former rival. McDonald posted a video in character, showing off his putting skills at his house.
"It's all about the short game," he declared before sinking the putt. "Drive for show, putt for the dough!"
McDonald then briefly broke the fourth wall to thank all of the fans before jokingly inviting Sandler to meet him at the ninth green at 9 PM, which is, of course, an old trick that Shooter pulled on Happy back in the day.