Adam Sandler and Pete Davidson's 'SNL' Quarantine Song Is Hilarious and Perfect
Come for the Sandler+Davidson team-up. Stay for the bizarre Rob Schneider cameo.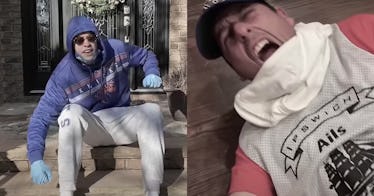 After another short hiatus, Saturday Night Live returned with another edition of "SNL At Home" over the weekend. If, like me, your definition of "normal" is related to watching the sometimes great — sometimes "meh" — installments of Saturday Night Live every week, these recent "SNL At Home" episodes have been the definition of pop-culture comfort food.
The latest "SNL at Home" was a reminder of why the current cast is fantastic. But, for fans of old-school Saturday Night Live (e.g. '90s dads like me), it's never a bad idea to bring back Adam Sandler. The new king of the COVID-Quarantine spoof-song returned to SNL to do a sick collaboration with Pete Davidson called "Stuck In the House." The best part of the Sandler cameo is that his verse seemingly comes out of nowhere, complete with the excellent lyric: "I miss the NBA and I miss Rob Schneider."
For all the dads out there wearing "underwear masks," and trying to figure out how to make out with your wife when your kids are home all the time, this is hilarious and genuinely warm. SNL made a huge point of thanking healthcare workers and first responders, but it's also a good time for everybody to thank SNL. It's also hard not to love the fact that Sandler's daughters — Sadie and Sunny — along with Pete Davison's mom, are all credited at the end song as the directors of the new sketch.
For some parents, SNL is one of the only things making us feel normal after the kids go to bed. Particularly, if, like me, you're taking Sandler's advice and only petting your dog (or cat) with a baseball mitt.
SNL also aired a great cold open featuring Brad Pitt playing Dr. Fauci. You can watch that below.
This article was originally published on