Adam Driver Says He's Open To Returning to 'Star Wars'
In a recent interview, the actor addressed the possibility of playing Kylo Ren again.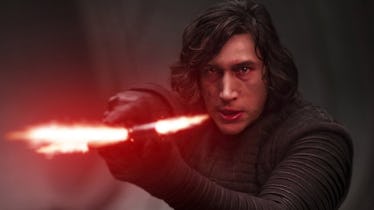 Adam Driver addressed the possibility of his return to Star Wars in a recent interview, saying that he wouldn't rule out playing Kylo Ren (aka Ben Solo) in future projects, if he felt it was a good fit.
"No, I'm totally not against it," Driver told Unilad. "For me, it's a filmmaker's medium, so my only thing is working with great filmmakers. Whatever the size… it's never been interesting to me, to an extent. There's interesting things about working on both. I always just follow people I'd be interested in working with, and whether I'd be right for the part – things like that. No, definitely not averse."
So it sounds like while Driver is not dying to head back to a galaxy far, far away, he's at least open to the idea if it was under the right circumstances. While the sequel trilogy faced plenty of criticism, Driver's portrayal of Kylo received mostly praise from both critics and fans.
Of course, there is one potential problem with Kylo coming back: the fact that he died at the end of The Rise of Skywalker. Of course, that's a pretty easy problem to overcome, as he could always return as a force ghost, like many former Jedi and Sith before him.
Lucasfilm president Kathleen Kennedy recently revealed that there is a possibility of Kylo, Rey, and others continuing to be in the Star Wars universe. Oscar Isaac, who played Poe Dameron, indicated he was mostly disinterested in returning, saying he would reprise the role "if I need another house or something."
Meanwhile, John Boyega, who was previously vocal about his displeasure of the character arc of Finn in the trilogy, said he was "open to the conversation as long as it is Kathleen, J.J., and maybe someone else and the team, it's a no-brainer."
This article was originally published on