Adam Driver's Return to SNL Was a Chilled Out and Awesome: Watch The Best Sketches Here
Forget Matt. It's all about Randy this time.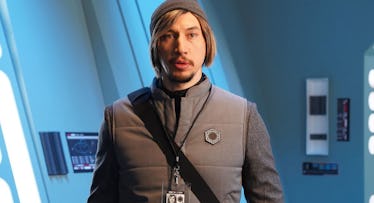 Credit: NBC / Saturday Night Live
Adam Driver returns to SNL to host for the third time, and what a charm it was. He's always been the perfect mix of himself and hilarious each time he hits up the show, but this appearance was just that much better. It was clear that both Driver and the SNL cast were fueled with humor because his return was a balanced mix of his chill personality and belly laughing sketches. Here are our favorites from the night.
The SNL monologue always comes first, and it really seems to set the tone for how the show will go. This episode had a little extra pressure to get the energy right because it's the first show of 2020 and Driver nailed it. There's been some drama with Driver this past year, and he's been in a lot of movies and he touches on both with perfect humor.
"Tonight, I'm just going to be myself and be chill," he says before asking for music and then was the opposite of chill, and it was awesome. He was awkwardly looking around to "take it all I" and played that feeling up with utterly strange silence moments.
I love me a good awkward song and, in the skit, "Slow," we get just that. A group of three singers (Driver, Kenan Thompson and Chris Redd) love their R&B, and they also play on that theme of awkwardness – this time being really, really slow to get to the punchline. The idea is they want to hang out with their ladies, (played by musical guest Halsey, Heidi Gardner, and Ego Nwodim) and try and serenade them as they walk towards them. The joke is the title of the skit and it's the right amount of slow to nail that humor home.
Kylo Ren (obvi played by Driver) returns as in this sequel of "Undercover Boss" – one of the most famous sketches from his time on SNL. Going undercover as Randy the Intern was even more apparent this time than the last skit, and it' makes it funnier every time. Any time he gets to play on his role in the Star Wars franchise is gold, but this skit that adds humor to the universe is a great way to bring it into SNL-land without feeling too forced.
Another hit episode for Driver and a great one to ring in the new 2020 season of the show. He seemed so much more comfortable up on the stage and nailed everything—whether he was asked to sing, be awkward, silly, or serious.
This article was originally published on