Accidental 911 Call Leads to Epic Dance-Off Between Cop and Kid
Once the young boy busted out 'the Floss,' it was over.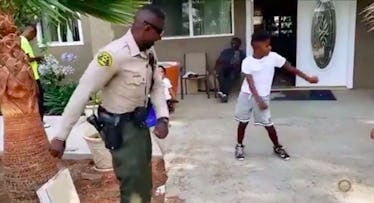 Twitter: LASD
Not every 911 call is an emergency. Sometimes people call by accident. Rarely, however, does one of those accidental calls lead to an epic dance-off that would make Hansel proud. Until now. When police officers in Los Angeles responded to a 911 call yesterday they quickly learned at the call had been placed by some kids. There was no emergency. Somewhere between checking in on the kids and getting back into his squad car, however, the LA County Sherriff's officer soon found himself in dance battle with one of the young boys. Both showed off their best moves in an attempt to establish once and for all who was the superior dancer.
For most of the video, the officer seems to be holding his own against his young opponent. Once the kid busts out 'the Floss,' though, it was all over for the cop. As much as he tried to keep up, the kid had a level of mastery with the popular dance move that the officer simply could not match. Eventually, the cop relents and admits defeat, although he took the loss in stride and can be seen laughing in the video.
The video of the dance-off was eventually uploaded onto the LA County Sherriff's Twitter account and has proved to be a viral hit. In just two days, it has received more than 40,000 reviews and been retweeted hundreds of times.
This article was originally published on