It's About To Get A Lot Easier To Raise A Child In Minnesota
Minnesota Governor Tim Walz announced an expansive child care and education plan that could change everything for families in the state.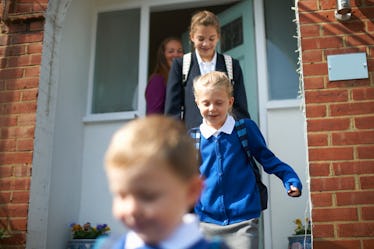 Peter Muller/Getty
American parents and experts have been calling on the federal government to prioritize families. But despite the Biden Administration push for a comprehensive plan that would include provisions for sick leave, child tax credits, and affordable childcare, at each turn Republicans and Democrat Joe Manchin roadblocked those plans. Now, in one lucky state, parents may finally receive a safety net package that prioritizes families' needs.
According to the Minnesota Reformer, Minnesota Governor Tim Walz announced an expansive child care and education plan to support Minnesota families with K-12 kids via tax breaks, spending hikes, and increasing affordable child care.
Multiple studies have shown that family-friendly policies produce a range of benefits for everyone. For example, the World Economic Forum says that the upfront costs of family support programs pay off with time in "healthier, better-educated girls and boys, a better-equipped workforce, and more sustainable growth for nations."
Family-focused benefits also increase a country's economy, and these benefits can "extend for generations," according to research. Several studies echo what the World Economic Forum found: that spending more on families more than pays for itself. Minnesota is now putting those findings into action.
Minnesota is determined to offer better for its families.
According to the Minnesota Reformer, the governor plans to release parts of the state's budget this week, saying that children and families will be a major focus.
"We're here today to fulfill and put out the pledge that we made to make Minnesota the best state in the country for a family to live and to make sure that every child gets the opportunity to thrive," Walz said at the Adams Spanish Immersion School.
"This budget will tackle and eliminate child poverty, put money into families' pockets, and fund our schools."
What would the proposed Minnesota expansive child care and education plan do?
Provide $1,000 per child (max $3,000 per family) to families earning less than $50,000 per year
Expand the Child and Dependent Care Credit for families making under $200,000 to receive up to $8,000 for a family with two kids under age 5
Hire staff who focus on student mental, emotional, and physical health in school districts throughout the state.
Increase the state's base funding for public schools next year by 4%, with a 2% increase the year after.
Provide access to free breakfast and lunch at school regardless of a family's income.
How much will the proposed plan cost, and how will it be funded?
Of course, with a plan such as this, people will worry about how the new proposed services will be paid for and what the estimated cost is.
The Walz administration said the full education and child care package costs roughly $5.2 billion of the $17.6 billion surplus, which is around 30% of the surplus, per the Minnesota Reformer.
What's next? The final two-year budget and tax plan will be released on Jan. 24 and will then be negotiated with state lawmakers.