As States Take Aim at Abortion, Biden Finally Steps Up to Save Clinics
Biden finally reversed a policy he promised to tackle more than 200 days after taking office as states begin to draft their own heartbeat bills.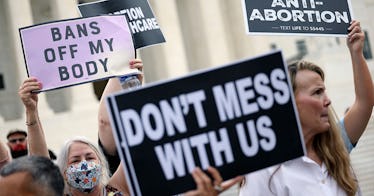 GETTY
Access to abortion care in the United States is under fire.
After Texas passed and implemented SB 8, also called the heartbeat bill, making abortions after six weeks illegal, advocates have waited with bated breath to see when other states would attempt to pass similar, if not the same, legislation. The Texas abortion ban — and the Supreme Court's failure to stop it from becoming law, functionally overturning Roe — has put essential care at risk. But the fight for abortion access isn't a new one.
On October 4, the Biden administration reversed a policy set under the previous administration that barred organizations from receiving federal family planning money if they provided abortion as a medical option or gave out abortion referrals. This rule, which basically amounted to a "gag order," was contentious from the beginning but was set under President Trump. Biden shared shortly after taking office that he intended to put an end to the draconian rule.
And now, more than 200 days since taking office, Biden has moved forward. Beginning November 8, the new rule under Biden will follow the Title X family planning program, which was created in 1970. Title X subsidizes breast and cervical cancer screenings and birth control, on top of other preventative care, for predominately low-income people. Under Trump's rule, those clinics that received Title X funding were unable to do so if they even so much as told someone where to get an abortion, except in cases of rape, incest, or medical emergency. Many abortion providers, like Planned Parenthood, immediately withdrew from receiving that Title X funding — but there are many other smaller family planning clinics that would suffer financially under the rule.
"Our nation's family planning clinics play a critical role in delivering health care, and today more than ever, we are making clear that access to quality family planning care includes accurate information and referrals — based on a patient's needs and direction," Xavier Becerra, the health and human services secretary, said in a statement, according to The New York Times.
This new change comes at a pivotal time as more states look to push abortion bans, similar to what Texas passed. According to Newsweek, a judge in Oklahoma temporarily blocked two new abortion laws from taking effect while upholding three others.
The law that was blocked would have banned abortions after six weeks. Still, two that were passed include restricting medication-induced abortions. The second requires doctors to be board-certified in obstetrics and gynecology to perform abortion procedures. These "small" barriers are small to people who can afford to travel elsewhere or to wait, but for low-income parents, the restrictions make abortion harder to access and more expensive.
While the Biden moving to protect abortion care clinics is going in the right direction, is it too little compared to what's going on? According to AXIOS, "Over a dozen states have tried to enact laws similar to the near-total abortion ban in Texas, but they have mostly been blocked or struck down by federal or state judges."
While it's great that the laws are being knocked down, the federal government, including Congress, could do more and pass a bill that protects the right to abortion federally, superseding state laws.