This Is Exactly How To Keep Your Kids Safe From Cars
The AAP issued the first pedestrian safety recommendation for kids in 14 years, and it includes crucial updates.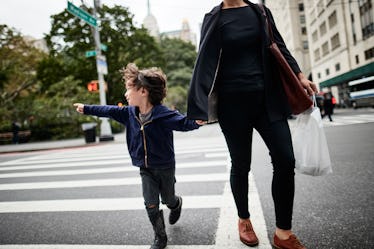 ballyscanlon/Photographer's Choice RF/Getty Images
The American Academy of Pediatrics (AAP) has issued its first policy statement on pedestrian safety in 14 years to include significant updates to make roads safer. The new update is in response to significant statistics that have been on the rise for decades. Here's what you need to know.
The AAP policy statement, "Child Pedestrian Safety," and an accompanying technical report, "Epidemiology and Prevention of Child Pedestrian Injury," was published in the July edition of Pediatrics, written by medical experts to reflect the latest evidence following a peer review of the data.
The policy comes after data shows child pedestrian deaths have increased by 11% since 2023, and this is despite an overall decline in pedestrian deaths over the past three decades. Statistics cited by the AAP show that kids between the ages of 10-14 and teens aged 15-19 are the most affected by pedestrian deaths, with 16% of children killed in traffic crashes being pedestrians.
According to the AAP, American Indian, and Black youth under 19 years old are 1.8 times more likely to die in pedestrian incidents than white children, while Hispanic kids have 1.2 times the risk of death in pedestrian incidents than non-Hispanic kids. "The risk of child pedestrian death is greater in rural areas, and boys are at higher risk of injury, as are children with disabilities," the AAP notes. These statistics were driving forces for the AAP to revisit its child pedestrian safety policy.
"The reminder to 'Look both ways before you cross the street' is good advice, but just part of the equation," Sadiqa A. I. Kendi, MD, MPH, FAAP, CPST, co-author of the policy statement, said. "Research tells us that an even more effective way to consistently improve safety is when communities take intentional steps to create pedestrian-safe environments. We live in a busy, distracted world, and when local leaders create walkable spaces, they also enhance the appeal and vibrance of their communities."
While there is a lot of conflicting advice out there for parents on how to keep their kids safe as pedestrians share the space with cars, the AAP lays it out clearly both in terms of policy changes that could make a difference and some measures parents can implement to help keep their kids safe. These include:
Don't allow children to play in driveways and adjacent unfenced yards.
Be mindful of kids playing outside between the hours of 6-9 pm, which "are the riskiest times of day for child pedestrians, as 64%. percent of deaths occur in daylight hours or at dusk."
Adults should accompany most kids under 10 years old.
Leave your cell phones in your pocket if you're walking or driving.
Embrace the pedestrian system.
"We know that active transportation, like walking or biking, is good for kids, and it's good for the environment," Brian D. Johnston, MD, MPH, FAAP, co-author of the report, said. "As children grow older, they will be able to be more independent. Each of us can help keep children safe by paying attention to the people around us and by promoting safer environments that benefit all of us."
For more details, including actionable steps to use your voice to advocate for better safety policies, check out the full AAP policy statement.