98,000+ Kia Sportage SUVs Recalled Due To Brake Issue
Kia has recalled more than 98,000 Sportage compact SUVs over a possible braking issue.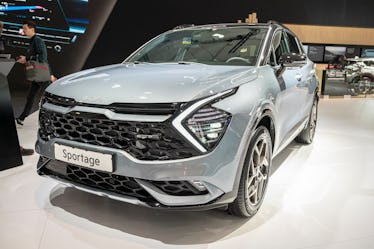 Sjoerd van der Wal/Getty Images News/Getty Images
Kia has recalled more than 98,000 Kia Sportage compact SUVs over a possible braking issue that increases the risk of a crash. The joint recall between Kia and the National Highway Traffic Safety Administration (NHTSA) came after a quality control inspection flagged the issue.
Kia will reach out to owners of affected Kia Sportage models by July 21, 2023. In a recall statement to Fatherly, Kia said, "Kia America is conducting a safety recall on certain 2023 model year Sportage vehicles... No crashes, injuries or fatalities have been reported in relation to this issue." Kia also stated that any car owner who got a repair for this issue prior to the recall will have their expenses covered.
Why is the Kia Sportage being recalled?
According to the NHTSA, the Kia Sportage SUV has been recalled due to an issue with the brake booster diaphragm. The brake booster diaphragm may become "misaligned and result in an internal vacuum leak... A loss of brake assist can result in hard pedal feel and increased effort during [the] pedal application, thereby increasing stopping distances."
The risk of a crash is increased when the brake assist doesn't function properly, which is what led to the recall.
According to documents filed with the NHTSA, there have been 73 reports of people experiencing issues with the loss of brake assist. So far, there have been no reports of accidents, injuries, or deaths related to the malfunctioning break assist in the Kia Sportage.
Which Kia Sportage vehicles are included in the recall?
The vehicles included in the recall are only the 2023 Kia Sportage vehicles that were manufactured in the Kia Georgia plant between January 12, 2022, and February 15, 2023.
In total, Kia estimates the number of impacted vehicles is 98,944 in the United States.
To determine if this recall impacts your vehicle, you can search for the recall notice on Kia's website using your VIN.
The recall notice also states that Kia will begin reaching out to registered owners of the 2023 Sportage by mail on July 21 to alert them of the recall and encourage owners to take their vehicles to a nearby Kia dealership.
What do I do if I have an impacted Kia Sportage?
Owners of the impacted Kia are asked to contact their local Kia dealership to schedule a replacement. The recall notice says dealers will inspect and replace the brake booster as necessary, and there will be no charge.
"Kia will reimburse owners for repair expenses already incurred pursuant to Kia's General Reimbursement Plan filed May 10, 2022," the recall notice adds.
If you have any questions, you can call Kia customer service at 1-800-333-4542.
For more information on the brake assist recall, visit NHTSA's information page here.