'90s One-Hit-Wonder Band New Radicals Are Back For Biden Inauguration
But, will they change the ending of their famous song?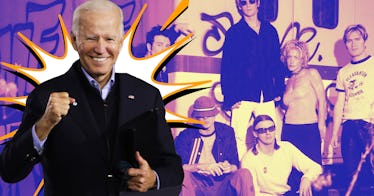 Getty
That one band that you only kind of remember is reuniting for the first time since you were in high school to be part of Joe Biden's inauguration. No one who grew up in the '90s is deluding themselves into thinking the New Radicals was ever their favorite band. But, any of us hovering in the mid-30s to mid-40s range, probably have some warm-memories of the catchy New Radicals song "You Get What You Give." And now, after 22 years, that band will reunite to take part in the Biden-Harris Inauguration.
You may be asking yourself, "why?" Well, for the entire Biden-Harris campaign, the New Radicals song, "You Get What You Give," was used as the walk-on music for incoming Second Gentleman, Doug Emhoff. This song was also, apparently, a huge favorite of Beau Biden.
The New Radicals will be part of a parade called "Parade Across America," and, are set to be the closing act of said event, which seems to signal, that yes, parents who had no-skip CD players hooked up to their car stereos via a cassette "car kit" in 1998, are very much part of the demographic who voted for the Biden-Harris ticket.
According to a statement in Rolling Stone, the frontman of The New Radicals, Gregg Alexander — a name you totally remember from 1998 (NOT) — said that the decision to bring the band back together is 100 percent because of that one song. "If there's one thing on Earth that would possibly make us get the band together if only for a day, it is the hope that our song could be even the tiniest beacon of light in such a dark time."
Having heard "You Get What You Give" on heavy-repeat on my local indie rock station recently, I gotta say, this song still very much slaps. I love it as much as I did in 1998, which is to say, my feeling about it is, "Oh yeah, this song! Sure!" This isn't a disparagement. I'll take "You Get What You Give" over anything by Third Eye Blind, pretty much any day of the week. The only question I have for the New Radicals is whether or not they will change the ending of the song for the Biden-Harris event. As my fellow '90s kids may recall, there's a strange rap-like litany closing out the ending of the song that goes like this:
Health insurance, rip off lying
FDA, big bankers buyingFake computer crashes diningCloning while they're multiplyingFashion shoots with Beck and HansonCourtney Love and Marilyn MansonYou're all fakesRun to your mansionsCome around, we'll kick your asses
If we ignore the sort of generic anti-establishment lyrics about politics (random pot-shots at the FDA, millionaires being bad) the real challenge of this doing this list now, live, for the Biden-Harris ticket, is the question of what to do about the references to Beck, Hanson, Courtney Love, and Marilyn Manson. Does anybody but me think these references are still funny? Will a (socially distant) crowd during the Biden-Harris celebrations get fired-up about dated side-eye to Hanson? Will this actually make us wish Hanson was actually playing, too? (I.E. is "Mmmbop" closer to being timeless than "You Get What You Give?")
I'm not sure what pop-culture references the New Radicals should do instead of these '90s "jokes," but something tells me they might avoid it altogether. As much as I love talking about Marilyn Manson, this might not be the best time to make that particular allusion. I'm all for bringing back '90s nostalgia. Let's just not bring back the entire '90s, too. If you disagree, come around, you can kick my asses.
Here's how you can watch the Biden-Harris Inauguration live on Wednesday, January 20, 2021.