7 Shocking Stats From The Definitive Report On Gun Violence And Kids
The past few years have seen an increase in gun violence that has experts baffled.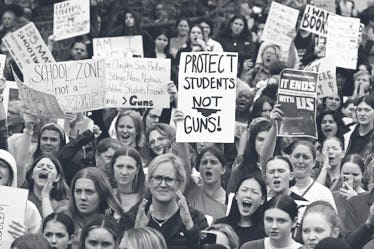 JOHN AMIS/AFP/Getty Images
In the United States, guns are the number one killer of kids and teens, even as gun violence continues to rise. The prevalence of guns in America, coupled with accessibility and lax gun regulations, has resulted in a pervasive culture of gun violence that harms everyone: more than 500 people in the United States die a day from guns. While the crisis doesn't disproportionately affect children more than other groups, it does impact them, with thousands of kids dying every year. Adults — with all of the power and political understanding in the world — need to step up to the plate and stop the senseless deaths of kids.
A new report from Pew Research dives into the statistics of the epidemic of gun violence, collecting data from 2019 to 2021, and the sobering facts and context surrounding gun violence involving kids is damning.
Here are seven key takeaways from the Pew Research Report about gun violence and kids in the United States:
1. Gun deaths of minors increased by 50% in two years.
In 2019, there were 1,732 gun deaths among U.S. kids and teens under the age of 18, according to the report. Two years later, in 2021, that number increased by nearly 50%, jumping to 2,590.
2. Gun death rates for kids saw a 46% increase in two years.
It's not just gun deaths that went up in raw numbers. According to Pew Research, gun death rates — "a measure that adjusts for changes in the nation's population," — also saw a major increase over two years. From 2019 to 2021, gun death rates jumped from 2.4 fatalities per 100,000 minors to 3.5 per 100,000 — a 46% increase.
3. Homicide was the largest single category of gun death — even for children.
Of gun deaths among children and teens, homicide was the largest single category, accounting for 60% of the total gun death count in 2021. Homicide was followed by suicide at 32%, and 5% were accidents.
"Among U.S. adults, by contrast, suicides accounted for a 55% majority of gun deaths in 2021," the report notes.
4. Boys accounted for 83% of all gun deaths.
Among children and teens, 83% of those who died due to gun violence were boys, while 17% involved girls.
5. Eighty-six percent of all gun deaths among kids and teens were from one age group.
"Older children and teens are much more likely than younger kids to be killed in gun-related incidents," the report says.
"Those ages 12 to 17 accounted for 86% of all gun deaths among children and teens in 2021, while those 6 to 11 accounted for 7% of the total, as did those five and under."
There were 179 gun deaths among kids ages 6 to 11, while those five years old and under saw 184 deaths in 2021.
6. Suicide accounts for a significant share of gun deaths among kids.
Although homicide is the leading type of gun death in 2021, suicide rates were also high, according to the report. Suicides accounted for 36% of gun deaths among those between the ages of 12 to 17, while accidents were the second cause for kids five and under at 34%.
A previous study from Stanford Medicine found that owning a handgun is associated with a "dramatically elevated risk of suicide," following a study that followed 26 million residents in California over 12 years. If you have a gun in your home and you have children, be sure that it is locked in a safe and unloaded, out of sight and reach of your children. If you have ammunition, that should also be locked in a safe separate from your firearm.
7. Black kids and teens are five times as likely to be killed by a gun than their white counterparts.
"There were 11.8 gun deaths per 100,000 Black children and teens that year, compared with 2.3 gun deaths per 100,000 White children and teens," the report indicates. Gun deaths among Hispanic kids and teens were also higher than for white kids, at 2.3 deaths per 100,000 in 2021.
According to Pew Research, a previous study done in 2022 found that nearly half of all parents in the United States are worried about their children getting shot. However, more than half also said they were not concerned about this.
You can read the full Pew Research report here.