6 Years Ago, One Dad Went Mega-Viral For The Most Adorable Reason
Six years ago, the internet was blessed with arguably one of the best dad moments ever to hit the world wide web: the BBC Dad.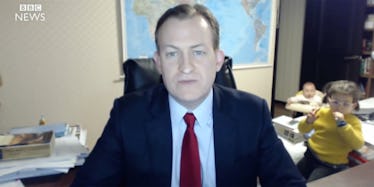 BBC News
Six years ago, the internet was blessed with arguably one of the best dad moments ever to hit the world wide web. On March 10, 2017, Robert Kelly, an associate professor of political science at Pusan National University in South Korea, was interviewed live on BBC News to discuss the ouster of South Korean president Park Geun-Hye. In the most unexpected turn of events, a 43-second clip of Kelly's interview went viral, and since, it's been solidified as a pop culture moment.
In the background of Kelly's interview from his home office, his two kids, an adorable toddler and an energetic infant busted into his room while he was live on air. And the events that happened in that short time, from him desperately trying to ignore what was happening, shooing his toddler away, and his wife rushing in, trying to duck out of the camera's eye, ushering her kids out of the office was hilarious — and Kelly became very famous as a result.
Kelly was dubbed "BBC Dad," and at the time, he thought his career was over.
He told The Guardian in 2017: "We both assumed that was the end of my career as a talking head," he shared, recalling speaking to his wife right after the interview. "I thought I'd blown it in front of the whole world."
Perhaps the most bizarre part of it all is to consider that in 2017, that moment was novel. Most of us didn't have to really worry about our kids bursting into our remote meetings or interviews, since Zoom meetings were novel at the time. However, that changed only three years later with the onset of the global pandemic and as many parents shifted to remote work.
Those lucky enough to be able to isolate and work from home found themselves in the same position as BBC Dad, and it wasn't easy. So many of us struggled to balance our bored kids and our work demands — as well as the stresses of the pandemic.
And then parents realized just how much trying to juggle it all sucked — and how much that it didn't really matter — so we embraced the chaos, and our kids became background characters (or even supporting actors with lines) in all our Zoom meetings.
In fact, in March 2020, Fatherly published their own retrospective on the BBC dad moment, noting that we should all just embrace the kids on Zoom: "Now, the interrupting kid is less novelty than a digital workplace staple."
So what is BBC Dad up to now? His daughter, Marion, is now ten, and her little brother, James, is now eight. Last year, to mark 5 years since he went viral, Kelly shared an update on his life on Twitter saying, "Today is the 5th anniversary of the 'BBC Dad' event and probably the last time I will mark this date here on Twitter. My wife and I remain deeply grateful for all the kindness about our kids over the years."