5,800 Pounds of Beef Jerky Sticks Were Recalled Due to Allergen Mislabeling
The products have an allergen in them that is not labeled. Here's what to know and do.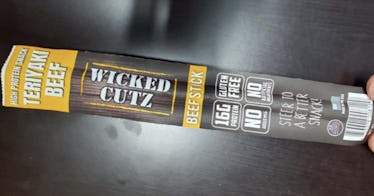 USDA
Frickenschmidt Foods, a company that largely sells beef jerky and other jerky-like products, announced a recall of 5,800 pounds of their Teriyaki Beef-flavored Wicked Cutz snack sticks. The product is being recalled by Frickenschmidt Foods, not due to bacterial concerns or listeria or e. Coli, but instead because the product is labeled as "gluten-free" when it was not. Here's what to know.
What Products Are Being Recalled?
The Teriyaki Beef-flavored Wicked Cutz snack sticks being recalled by the company in partnership with the USDA were packaged on three dates: November 30th, 2021, December 1, 2021, and January 28, 2021.
They are 1.5 oz individually sealed packages that say "HIGH PROTEIN SNACK TERIYAKI BEEF WICKED CUTZ BEEF STICK" on them with the lot codes 113022, 120122, and 012823 in blue ink on the back of the package.
They will also have the establishment number printed on the back of them: M33928, also in blue ink on the back of the package.
What Should You Do?
Beef jerky, and beef jerky sticks, as we all know, tend to last a long time. After all, they make a handy snack for those of us who really love preserved meat. So even if you don't think that the jerky you have in your pantry is this particular type, you should definitely double-check because it could be sitting, lying in wait to be eaten — which would be a huge problem if you or any family members have Celiac disease.
If you have the product, you should not eat them and should instead throw them out or try to return them to wherever you bought them — not Frickenschmidt Foods themselves, but the grocery stores and retailers you purchased them from.
Luckily, there are no reports of illness from people eating the beef jerky they thought was gluten-free —however, continuing to sell it would be in violation of the 2004 Food Allergen Labeling and Consumer Protection Act law that requires brands to label allergens on the food products they are present in.