50 Years Later, Volvo Has Stopped Selling 'Brick' Station Wagons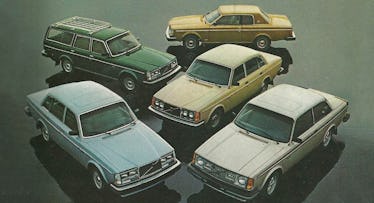 VOLVO
Ding dong the brick wagon is dead. Fifty years after the Volvo 140 series debuted on the American market, the traditional "brick" wagon has become a relic of the past.
The newest iteration of Volvo's beloved wagon, the XC70, will officially be replaced by two much sleeker models — the V90 and V90 Cross Country. The traditional boxy frame is gone; instead, the updated wagons look a lot more like a classic crossover, replete with rounded edges and a lean body.
The change shouldn't come as a surprise. Over the years, the automotive market has shifted away from the ultra-traditional family station wagon in favor of SUVs, minivans, and Subaru Outbacks. Explanations vary: drivers enjoy the "higher-up" feel of SUVs; plus, minivans and SUVs can occasionally test safer than station wagons. The Subaru Outback, of course, became wildly popular after its release in the mid-90's, not only for these reasons but also for its very conscious outdoorsy-branding, its height, and all-wheel drive. They also had great gas mileage. So the United States began to go big on the Crossover.
The good old brick's retirement is no doubt a disappointment. It's a car that nearly dominated the market for fifty years. The 200 series alone, which was in production from 1974 to 1993, sold nearly 2.9 million units. These cars are universally beloved not only for their looks but also their safety and durability. Despite all of the changes in the car industry and in consumer wants, their cult following has made them one of the most beloved cars in the world, a car that just won't disappear.
After all, the market for used 240s is booming. Much like old Jeep Wranglers, used Volvo 240s from the nineties can go for around $20,000 depending on their condition. And their prices and value will only go up as fewer wagons populate the streets and the markets.
And while the Crossover is no doubt here to stay, and the Volvo's rebranding reflects a brand new world. We'll pour one out for the tissue-box brick, a body that didn't quit.