5-Year-Old Just Crushed the Appalachian Trail. We Feel Lazy
Harvey Sutton completed the 2,193-mile hike before starting kindergarten.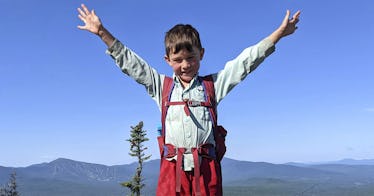 Joshua Sutton / AP via Today.com
Just before he starts kindergarten, Harvey Sutton was able to squeeze in a quick 2,100-mile hike, as the five-year-old became one of the youngest people ever to walk all of the Appalachian Trail.
Harvey, who earned the nickname "Little Man" on the trail, began hiking with his parents, Josh and Cassie, in January and then finally completed the hike last week in Maine. The 2,193-mile begins Springer Mountain, Georgia, and ends at Mount Katahdin in Maine. Harvey acknowledged that finishing the trail was hard work but he said that doing activities like looking at lizards and other wildlife helped him have fun the whole time.
"The rock scrambles were really fun and hard. We were not bored," he told TODAY.
Josh and Cassie took a "mini -retirement" from their real estate jobs in Virginia to try and do the trail with Harvey. The two worked hard during the journey to keep him entertained while making sure he kept moving, often offering to play freeze tag or let him discuss his plans to build spaceships and host lava parties when he's older.
What is really wild is that despite starting as a four-year-old, Harvey isn't even the youngest to ever hike the entire Appalachian Trail (babies who were carried by their parents don't qualify). That distinction would appear to go to Juniper Netteburg, who started and finished the trail as a four-year-old last year (while wearing a Wonder Woman costume, just to confirm she's a total badass).
Some people might think letting a child undergo such a long and difficult journey is bad for their bodies. But Dr. Laura Blaisdell, a pediatrician and medical adviser to the American Camp Association, explained that kids are resilient enough to handle this type of hiking, so long as the parents make sure the hike is within their kids' abilities.
What's especially fun is these stories show just how possible it is to hike the trail. While Harvey and Juniper were some of the youngest to ever do it, few can forget Grandma Gatewood, who walked the trail alone in 1955 at the ripe old age of 67. The Appalachian trail: it's really for everyone!