42% of Managers Are Considering a 4-Day Workweek, Survey Shows
Despite working more hours than ever, surveyed Americans said they are more productive in a 33-hour workweek than the current 38-hour average.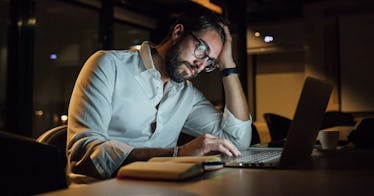 Do you feel like you're working more than ever these days? You're not the only one. We are working more than ever. Evidence shows that the current American workweek is longer than it's been in almost 15 years, so all that exhaustion your feeling is pretty much to be expected.
A recent survey of 1,001 U.S. employees and managers found that the average American worker clocks around 38 hours per week, up from just above 33 hours per week back in 2009. Conversely, the survey found that most workers feel they perform better and are more productive in a 33-hour workweek. This means there's an entire workday's worth of hours each week where employees feel that they aren't able to perform their jobs as productively.
If you're in favor of a four-day workweek, you're not alone. The survey, created by Skynova and analyzed by BLS Data found that 40% of workers can complete their assigned tasks in fewer than eight hours per day 3-4 days per week and 42% of managers are considering transitioning their staff to a four-day workweek.
The idea of the four-day workweek has been gaining momentum in recent years with record numbers of people resigning driving home the message that there needs to be a change to how Americans view work. Evidence from countries around the world shows that a four-day workweek increases satisfaction and work-life balance and that productivity is not negatively impacted. In some instances, productivity has even increased with a switch from five-day to four-day workweeks.
Parents especially stand to gain from a four-day workweek. More time at home to spend with their families or on personal projects they may not have time for otherwise will increase worker satisfaction and boost morale.
The idea that more hours worked equal more productivity is an outdated idea. Trials of the four-day workweek in Iceland showed that a shorter workweek translated to less stress and improved well-being and overall health, which increased productivity.
There is light at the end of the five-day-a-week tunnel, however. In July, California Representative Mark Takano introduced the Thirty-Two-Hour Workweek act to Congress. The act, which would decrease the federally recognized 40-hour week to 32 hours and mandate overtime pay for any hours worked above 32, was recently endorsed by the Congressional Progressive Caucus. The bill will move to committee discussions and hopefully to the House of Representatives for a vote before moving on to the Senate.