Another $415 Million in Student Debt to be Forgiven — Here's Who Qualifies
Nearly 16,000 former students will have their debt forgiven now, too.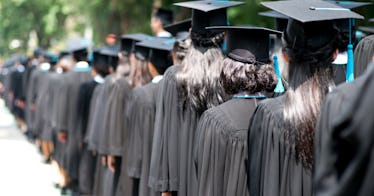 Supachok Pichetkul / EyeEm / iStock
The Department of Education has announced another $415 million in student debt will be discharged to 16,000 borrowers who said they were defrauded by for-profit schools. The claim is these schools misrepresented important information like employment prospects, federal officials said. Here's what you need to know about the new forgiven debt and who qualifies.
Who qualifies for this round of student loan forgiveness?
The Wall Street Journal reports the loans of nearly 16,000 former students will have their debt forgiven under the borrower defense to repayment provision, which allows students to have all debts erased if it's proven that the school defrauded them.
"The borrowers whose loans were addressed Wednesday said the four for-profit schools, DeVry University, Westwood College, ITT Technical Institute's nursing school and Minnesota School of Business/Globe University, provided deceptive information about their employment prospects, Education Department officials said," according to The Wall Street Journal.
The Education Department officials noted that people who attended the schools during the timeframes identified as falling within the alleged wrongdoings can continue to apply for relief even if they weren't included in the first round of debt forgiveness.
"The Department remains committed to giving borrowers discharges when the evidence shows their college violated the law and standards," Education Secretary Miguel Cardona said, according to CNBC.
"Students count on their colleges to be truthful," Cardona continued. "Unfortunately, today's findings show too many instances in which students were misled into loans at institutions or programs that could not deliver what they'd promised."
Will there be more student loan forgiveness in the future?
The Biden Administration has been pushing to have more student debt forgiven, previously endorsing canceling $10,000 in student debt per borrower who attended public colleges and schools that historically serve Black and minority students through proposed tuition-related debt forgiveness and legislation. But promises have not led to action.
Since those proposed legislative changes have been stalled, the administration has turned to the borrower defense program instead. This has led to $16 billion in loan discharges, according to The Wall Street Journal stats. This has impacted approximately 680,000 borrowers, with nearly $2 billion coming through the borrower defense program. And there still may be more to come.
This article was originally published on