3 Things The Happiest Americans All Have In Common
You can learn a thing or two from the happiest Americans.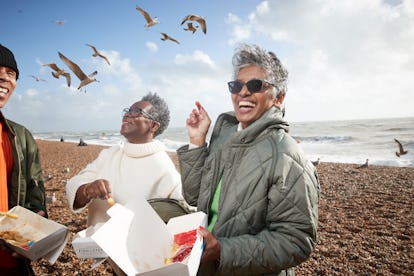 Klaus Vedfelt/DigitalVision/Getty Images
If someone were to ask you how you're doing these days, and you're not sure you'd describe yourself as "very happy," you're apparently not alone. A new survey found that happy people are a small and shrinking group — that share some things in common.
The Wall Street Journal survey, conducted with NORC at the University of Chicago, a nonpartisan research organization, is a survey with a sample size of just over 1,000 respondents. Survey-takers participated by answering a variety of questions during interviews conducted in March 2023.
According to the survey findings, most Americans aren't very happy, and the number of people who would describe themselves as very happy is dropping.
In this survey, only 12% of people noted they were "very happy," which is the smallest share of people the NORC's General Social Survey has ever seen in its 51 years.
"Among all 1,019 adults in the survey, large majorities said they felt pessimistic about the economy and prospects for the next generation," the survey noted. Thirty percent of people polled said they were "not too happy," which is the lowest level of happiness that can be polled in the survey.
1. Age Matters — But Happiness Isn't Exactly Linear
People who considered themselves "very happy" were in the older groups of people. Forty-four percent of people 60 and up considered themselves "very happy" despite only making up 30% of the respondents.
The next age group that ranked highest in happiness was 30-44-year-olds, at 31%, followed by the 18-29 age group at 16%.
The least happy people show that you don't just get happier with age. Only 9% of those between 45-59 years old said they were "very happy."
2. Women Are Generally Happier
The survey was nearly split between people who identified themselves as females, which made up 51% share of the poll, while those who identified as male, made up 49% of respondents. However, there was a big difference in happiness between the two.
According to the results, 65% of participants who identified as female classified themselves as "very happy," while only 35% of males answered the same way.
3. If There's One Secret To Happiness, It's Strong Relationships
There were some very strong ties to having a sense of community and happiness in the survey. For example, 67% of the people who identified as very happy say marriage is important to them, regardless of whether they're happily married or not, which is nearly 25% higher than the other groups.
But it's not just marriage that helps people stay happy. The report also noted that religion is another factor that those in the happier cohort spoke of. However, it's more about the community of support that comes with an involvement with the church than any specific religion in general.
"Community involvement rates as more important among the very happy than among those who report lower levels of happiness," the report noted.
To read the full Wall Street Journal-NORC poll, visit the Wall Street Journal.