How And When To Watch The 3D-Printed Terran 1 Rocket Launch
Terran 1 — the world's first 3D-printed rocket — is set to launch. Here's how to watch with the kids.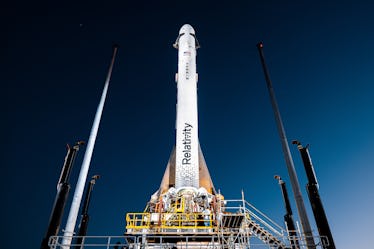 Trevor Mahlmann/ Relativity Space
A team of scientists and engineers has constructed the world's first 3D-printed rocket — and within the next few days, it could launch into space.
The team, Relativity Space, an American aerospace manufacturing company headquartered in Long Beach, California, is getting set to launch the 3D-printed rocket into space — and you can livestream the event from the comfort of your own home.
What is the Terran 1, and when is it going to launch?
According to EarthSky, Relativity Space hopes to launch its 3D-printed Terran 1 rocket in just a few days, after a number of launch delays.
The 3D-printed rocket was first scheduled to launch its debut flight on March 8; however, during the attempt, the mission was aborted after issues with the firing of its engines. The launch was rescheduled for March 11. However, that launch was canceled during the 3-hour launch window.
"Our teams obviously gave it an amazing shot today, and we had high hopes for sending our Terran 1 off, but we're going to continue to take a measured approach so we can ultimately see this rocket off to max Q and beyond," Arwa Tizani Kelly, test and launch technical program manager for Relativity Space, said during live launch commentary on March 11, according to Space.com.
Now, the re-launch has been set to a new date again. The launch mission, "Good Luck, Have Fun," will now take place on March 22, 2023, from Cape Canaveral Space Force Base in Florida, with another 3-hour launch window of 10 p.m. EDT and 1 a.m. EDT.
What is the Terran 1 rocket going to do?
The developers hope that the Terran 1 rocket will eventually become a way for paying customers to visit space. However, the first step in this (lofty) long-term goal is to simply get the 3D-printed model to work.
According to FOX Orlando, a typical rocket aimed to go to space takes approximately two years to build. What makes the Terran 1 so exciting is this one can be put together in just two months. It's 85% 3D-printed and uses both liquid natural gas and liquid oxygen for its rocket propulsion.
The rocket is 7.5 feet wide and stands 110 feet tall, making it the largest 3D-printed object to exist. "It can carry a maximum payload of 2,760 pounds (1,250 kg) to low-Earth orbit (LEO) at 115 miles (185 km)," EarthSpace explains. "The spacecraft is also rated to carry up to 2,000 pounds (900 kg) to higher sun-synchronous orbits."
How to watch the Terran 1 rocket
If you and the kids want to watch the Terran 1 rocket (hopefully) take off on March 22, you can watch the full rocket launch on the Relativity Space's YouTube stream.
Bookmark this link, set a reminder in your calendar, and keep up to date with Relativity Space's Twitter account.