Map of the Most Neighborly Cities in the United States Has Us Packing Our Bags
Find out if your city made the cut... or if you know exactly where you're moving next.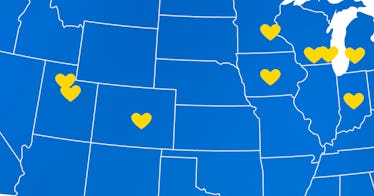 Neighbor
Deciding where to live can feel like a daunting choice to have to make. There are a lot of factors that can influence where you end up, whether it's money, weather, child care access, or proximity to the world's biggest ball of yarn, it can all feel a bit overwhelming.
But one thing that many people want to have in the place we call home is a real sense of community, and Neighbor.com has you covered in that department, as the peer-to-peer self-storage marketplace revealed its second annual ranking of "The Most Neighborly Cities in America."
To create the rankings, Neigbor.com spoke with 1,000 United States residents to find the qualities they considered most essential in a neighborhood (social, empathetic, helpful, and reliable). With that in mind, they sought out to find which cities best embody these qualities by collecting data on volunteering, neighborly acts, charitable giving, happiness, and low crime rates.
If you are looking to live in a city where Mr. Rogers would feel right at home, your best bet is to head to Wisconsin. Madison grabbed the coveted top spot on the rankings due to being rated the happiest city in America, and leading the entire country in nonprofits per 100,000 residents. After Madison, Rochester, New York, was up, as it ranked in the top five for neighborly acts and volunteering. Portland, Oregon earned the bronze medal, with Minneapolis and Des Moines rounding out the top five. The rest of the cities are all basically not in the South, which is as interesting as it is probably going to be chilly!
Top 25 Most Neighborly Cities in America:
Madison, WI
Rochester, NY
Portland, OR
Minneapolis, MN
Des Moines, IA
Washington, D.C.
Boston, MA
Seattle, CA
Pittsburgh, PA
Milwaukee, WI
Raleigh, NC
San Jose, CA
Harrisburg, PA
Grand Rapids, MI
Bridgeport, CT
Salt Lake City, UT
Spokane, WA
Oxnard, CA
Allentown, PA
Indianapolis, IN
Colorado Springs, CO
Durham, NC
Provo, UT
Baltimore, MD
San Francisco, CA
While Neighbor.com gathered data from 100 cities across the country, they only revealed their top 25, so there's no indication of which cities are the least neighborly. You can see the full results here.