2-Year-Old's Best Friend Skeleton Goes Everywhere With Him
"Ever since then, the skeleton's been coming everywhere with us."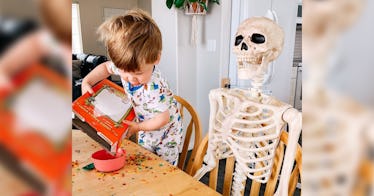 abigailkbrady/instagram
Some friendships develop that seem a little strange, but when you like someone, you like someone. And that's what drew 2-year-old Theo to his new best friend – a 5-foot-tall Halloween decoration skeleton named Benny.
According to TODAY, little Theo has sparked up quite the friendship with Benny, to the point that Benny now goes everywhere with him. Theo's mom, Abigail Brady, says Benny is never left back at home when the family runs errands. While it can be cumbersome trying to load another body into the car, the adorable friendship seems to brighten others' day. And, it's important to note that the body is just bones, so it's hard to imagine that Benny is too heavy.
"2020 has been probably one of the craziest years in a while, and I know it has brought a lot of people a lot of turmoil and a lot of hardship," Abigail, who lives in Salt Lake County, Utah, told TODAY Parents while revealing the unlikely friendship her son has with his skele-friend. "My hope is that this can just spread some happiness. Even if it makes someone's day for a couple of minutes, that makes me so happy."
It was a random happenstance that sparked the friendship between Theo and Benny. Abigail explained that her son's friendship started on Sept. 15, after Theo found the Halloween decoration down in their basement. Abigail explained that her son called for her from the basement, and when she joined him downstairs, she saw Theo trying to drag Benny up the stairs.
"I was like, 'Oh my gosh, that is so funny.' So I brought it upstairs," Abigail recalled to TODAY. "(I thought) I'll just start decorating for Halloween early."
Theo had different plans and wanted the skeleton to attend a playdate with him and refused to go anywhere unless Benny joined him along the way.
"He refused to get in the car [without Benny], just flat-out refused. So I was like, 'I'll bring it in the car, it's not that big, it's not that big of a deal,'" Abigail explained, adding that her son was equally as stubborn once they got to their location and would not leave the car without it.
"I was like, 'This is going to be fun. We'll just bring the skeleton with us, and it'll be a party,'" Brady said. "Ever since then, the skeleton's been coming everywhere with us."
Since their friendship began, Benny joined Theo at the grocery store, the playground, and the beach. And their friendship has brought joy to others when strangers see their adorable connection.
"My biggest thing is just helping to make people smile," Abigail said. "A lot of people just love it."