16,000 Toyota RAV4's Just Got Recalled — Here's Everything To Know
Here's what the company's voluntary safety recall means for you.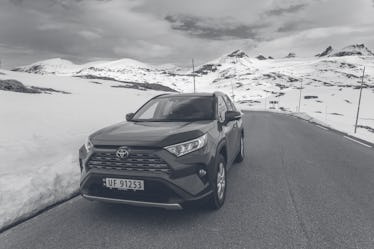 EP-stock/iStock Unreleased/Getty Images
Toyota has issued a voluntary recall of approximately 16,000 Toyota RAV4's in the U.S. after discovering a software problem that could result in the shutdown of the vehicle, increasing the risk of a crash and injury to occupants. The company is calling this a "safety recall" and promises to fix the issue free of charge. If you own one of the popular SUVs, here's what you should know.
Which Toyota RAV4 Models Are Being Recalled?
According to the statement released by Toyota and the National Highway Traffic Safety Administration, the recall is for certain 2021 models of the Toyota RAV4 Prime, a plug-in hybrid model.
Customers can search Toyota's recall website using their unique VIN to find out if their particular vehicle is included in the recall.
Why Is The Toyota RAV4 Prime Being Recalled?
The recall points to an issue with the hybrid vehicle's lithium-ion battery and software, which can cause the vehicle to stop abruptly, especially while driving in cold weather.
"If the accelerator pedal is rapidly pressed to further accelerate the vehicle after it has been continuously driven in 'EV mode' in cold temperature and the HV battery voltage decreases, the voltage may drop rapidly below a specified threshold," the recall notice by Toyota explains.
"If this occurs, the vehicle will display a warning message and the hybrid system will shut down, resulting in loss of motive power. If the vehicle loses motive power while being driven at higher speeds, there could be an increased risk of a crash."
So, Your RAV4 Is Affected By The Recall. What Do You Do?
If you own one of the impacted vehicles, Toyota says all known owners will be notified to take their vehicle to an authorized Toyota dealer via a mailed notification letter by April 3, 2023.
"For all involved vehicles, the dealers will update the Hybrid Vehicle Control ECU software at no cost," Toyota notes.