13 Children's Show Theme Songs Secretly Performed By Your Favorite Musicians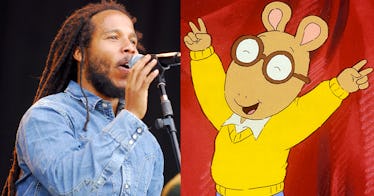 Getty/PBS
If former Blues Clues star Steve Burns's collaboration with Steve Drozd from The Flaming Lips taught you anything, it's that just because it's for kids it doesn't mean it can't be awesome. Kids' TV shows are no exception. Many of your favorite artists are behind those theme songs you've been tuning out this whole time. Here are the mainstream musicians (and several Rock & Roll Hall Of Fame members) who make those short, 30-second ditties count. Obviously, none of them are Phish.
Ziggy Marley And The Melody Makers, Arthur
They aren't exactly the Wailers, but they are a decent answer to "What's reggae, Dad?". Ziggy Marley And The Melody Makers are basically Bob Marley's family band, made up of son Ziggy Marley and his siblings Sharon, Cedella, and Stephen. They're like the Osmonds — but with dreads. As you may know, Arthur is no stranger sweet jams. Or did you forget about Yo-Yo Ma and Joshua Redman's epic and oddly muscular jazz battle?
Wyclef Jean, Postcards From Buster
Postcards From Buster is an Arthur spin-off, which makes it extra, extra weird that the theme song is sung by Wyclef Jean. Jean infamously thought former Fugees bandmate Lauryn Hill's first baby was his … when it was actually Rohan Marley's (Ziggy's younger brother). Who knew PBS did melodrama?
TLC, All That
Maybe they gave you the confidence to wear silky pajamas. Maybe they were why you stopped chasing waterfalls. Whatever they were responsible for, TLC was also behind the theme to All That — a show that was basically a kid-friendly Mad TV. The theme primarily showcases the rap stylings of the late Lisa "Left Eye" Lopes which absolutely everyone over 35 knows.
Coolio, Kenan & Kel
If All That was Mad TV for kids, then Kenan & Kel was Saturday Night Live for kids — mostly because half of the comedy duo wound up on SNL. Coolio's role in the show's theme song isn't much of a mystery since he appears in the opening credits. It appears he regained his sense after Weird Al's "Amish Paradise" the year before.
Little Richard, The Magic School Bus
Little Richard's 1955 hit "Tutti Frutti" has all the ingredients for a good kids' song: yelling and gibberish. But as the story goes, the original lyrics were, "Tutti Frutti, good booty." As you can guess, it doesn't get cleaner from there. So it's not a children's song, but Little Richard's vocal contribution to the PBS show is. At age 84, he won't likely be involved in Netflix's upcoming reboot, but Kate McKinnon will be.
They Might Be Giants, Mickey Mouse Clubhouse
They Might Be Giants were a quirky college rock band for more than 20 years before they released their first children's album No! in 2002. It took them that long to find a demographic that would buy the whole giant schtick. Members John Flansburgh and John Linnell wrote and performed the theme to Malcolm And The Middle, which landed them their first Grammy. They went on to win a second Grammy for Best Musical Album for Children, write a children's book (complete with accompanying EP), and make another Grammy-nominated children's album about science. On top of that, they've done songs for Higglytown Heroes along with the Clubhouse B-side "Hot Dog." You won't mind hearing about how this one is made.
Macy Gray, As Told By Ginger
In 2004 the "I Try" singer lent her raspy voice to the As Told By Ginger theme, a Nickelodeon show about an adolescent girl. And more recently, Gray released a song about a vibrator — because artists are versatile.
Reverend Horton Heat, Ren & Stimpy
Known as the "Godfather of rockabilly and psychobilly, and the regular father to children not named Billy, Reverend Horton Heat (Jim Heath) also created the Ren & Stimpy theme — a song so sick there are Reddit threads about it. His songs were featured in Beavis And Butthead, video games like Guitar Hero II, and in the soundtracks for several movies including Ace Ventura: When Nature Calls and Bio-Dome.
Fun fact: the character Powdered Toast Man was inspired by another famous musician, Frank Zappa. He was apparently cool with people thinking he farts on breakfast because he made a cameo on the show as "The Pope." Think of him as the original Young Pope.
Dr. John, Curious George
Curious George escaped Hitler, the Nazis, and a huffing addiction. What he didn't escape was New Orleans soul music. The curious little monkey was used to being in the right place at the wrong time, which may explain how his theme was written by the good doctor. Dr. John is a Big Easy institution, but he's also the voice behind the Blossom theme song, the famous "Love that chicken at Popeyes" jingle, and the Bonnaroo music festival in Tennessee (named after his 1974 album Desitively Bonnaroo), so a kid's show isn't that much of a sellout move.
Los Lobos, Hand Manny
Los Lobos are the East L.A. band whose South of the Border music landed them in the Rock & Roll Hall Of Fame. The Handy Manny theme continues their tradition of both traditional Latin music and rock for a cartoon character that has more rhythm than Bob the Builder.
The B-52s, Rocko's Modern Life
Kate Pierson and Fred Schneider from the B-52s sang the theme for the show from the second season on, and arguably blew the first season's version through the tin roof. But they weren't the first choice for the gig. The show wanted Danny Elfman, but he was too busy composing the theme for The Simpsons, doing the score to Pee-Wee's Adventure (plus songs for the sequel), and manning the band Oingo Boingo. The B-52s continued their cartoon career with the parody "Glove Slap" for The Simpsons as well, where they hopefully thanked Elfman for the extra jukebox money.
Cyndi Lauper, Pee Wee's Playhouse
Pee Wee's Playhouse was a place where kids just wanted to have fun, so Cyndi Lauper singing the theme song under the pseudonym Ellen Shaw makes sense. (Phil Hartman as Captain Carl was just the "Chairy" on top.) The Playhouse took music seriously and had a special soundtrack for each episode — all written by noteworthy musicians such as Todd Rundgren, Danny Elfman (who again, did the Pee-Wee movies), and Mark Mothersbaugh of Devo. Mothersbaugh later joined forces with Lauper in 2000 when he wrote and she sang the song "I Want A Mom That Will Last Forever" for the movie Rugrats In Paris — perhaps one of the saddest songs in Nicktoon history next to "Ren's Pecs."
Devo, Rugrats
Long before Mark Mothersbaugh was collaborating with Cyndi Lauper on songs about the mother of your child's mortality, he was the frontman of the New Wave band Devo. Throughout his 4-decade long career (so far), Mothersbaugh movie and TV credits include Wes Anderson's Bottle Rocket, Rushmore, The Royal Tenenbaums, and The Life Aquatic, as well as The Lego Movie, and plenty of songs for Pee-Wee's Playhouse. Most notably, he was the composer for the series Rugrats for an entire 13-year run. Even the character, Chuckie Finster, was inspired by his glasses and messy hair. Unlike Chuckie, Mothersbaugh is a father of 2 and not voiced by a woman.