1,000+ Museums Will Be Free on Museum Day, The Best Day of the Year
This should be a lot of fun.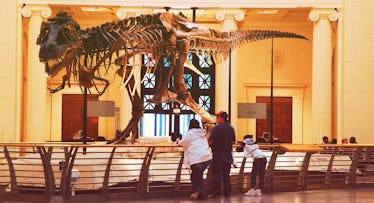 Field Museum in Chicago / Getty
Hankering for a trip to your local natural history museum with the kids, or the major modern art space in the town over? Well, you're in luck, because Smithsonian Magazine's Museum Day, which was canceled in 2020 because of COVID-19, is back this year, and some 1,000+ museums are participating.
What is Museum Day, you ask? It's a day where, in all 50 contiguous states across the country, over 1,000 museums will be completely free for everyone who goes, so in other words, it's not just kids who will be able to walk in without paying. Mom, Dad, and Grandma, and Grandpa can get in free, too. Museum Day this year is on Saturday, September 18th, meaning that it's accessible for the whole family.
This is the 17th anniversary of Museum Day and given that last year's had to be canceled as COVID-19 raged through the country, this year's event should be ultra-fun. The theme? "Experience America," a fitting one given that we were largely unable to do so for an entire year.
In order to take part in Museum Day, parents can log on to the Smithsonian website on August 18th and request a ticket (one request is one ticket plus a guest, so mom and dad might have to request separately) and they can get in free to any one of the 1,000 museums.
There are dozens of air and space museums, art museums, children's museums, general museums, history and natural history museums, science museums, and zoos and gardens participating across the country from Albuquerque, New Mexico to Montpelier, Vermont, and every city in-between. You could make it a date day and drop the kids off at a babysitter or spend the afternoon climbing around your local children's museum; it's up to you.
Either way, it's a free activity for the whole family. And those are always worth it.
This article was originally published on