10 Million Kids Are At Risk of Falling Back into Poverty. Here's Why
Experts are spelling dire warnings about what the lack of a January child tax credit could mean for families.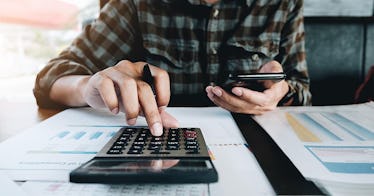 If you were praying for a miracle — namely that the Senate would get its act together and ensure Child Tax Credit money was deposited tomorrow — sadly, it's not going to happen, and 36 million families will be left in the wake of failed federal policy.
As part of the American Rescue Plan, the Child Tax Credit (CTC) ensured payments of up to $300 per month per child for low- and middle-class families. Payments were sent monthly from July 2021 to December 2021 and boy have they been a boon for families across the country.
According to the Center on Budget and Policy Priorities, roughly 4.1 million children were lifted out of poverty due to the CTC monthly payments. Early data showed that low-income families overwhelmingly used the extra income to pay for necessities like food, housing, childcare, and utilities, but they weren't alone — even wealthy parents used the payments to pay for necessities like food, clothing, utilities and rent.
Over half of people with kids spent the cash on kids, 30 percent on clothes, 25 percent on school supplies, 29 percent on utilities, 16 percent on rent and 12 percent on vehicle payments. Though the way people spent their money differed at different income levels, the reality is that even higher-income families that qualified for the payment overwhelmingly spent the cash.
President Biden's landmark legislation, the Build Back Better Act, aimed to continue these payments, but the bill was stymied by Democratic Senator Joe Manchin—the lone Democratic voice of dissent.
Manchin has been outspoken about his opposition to the monthly payments, even telling colleagues that he believed that families were using the extra cash to buy drugs and that residents of his home state of West Virginia would use the paid parental leave promised in the Build Back Better Act for deer hunting instead of newborn care.
Senator Manchin is putting millions of families at risk by refusing to compromise with the rest of the Senate and President Biden on the BBB and allowing the CTC payments to lapse. According to some estimates, around 10 million children will fall into poverty due to CTC payments stopping.
Record-breaking inflation and closures looming due to a spike in Covid cases coupled with the cessation of CTC payments mean many families who were already living on tight budgets will have to cut even more.
According to reporting from CBS, many low-income parents are planning on cutting food budgets, skipping meals so their children can eat, and disconnecting certain utilities just to make ends come close to meeting.
And if schools move to a virtual-learning model as they did in 2020, requiring parents to either quit a job to stay home or pay out of pocket for daily additional childcare, the financial burden that low- and middle-income families face could be devastating.
As dire as the outlook is for U.S. families, the repercussions don't stop there. The CTC put money back into local and state economies at rates much higher than expected. U.S. consumer spending was projected to increase by $27 billion in 2021 and state and local governments could have collected $1.9 billion in new taxes if the CTC had been allowed to continue until the summer.
Parents are encouraged to file their income taxes and claim the remaining chunk of their CTC cash. The IRS will start processing tax returns on January 24th, but, like last year, delays are expected, so file as early as you can.