10 Disney Movies You Should Watch on Netflix Before They Leave Forever
Disney is separating from Netflix. Here's what to watch before they're no longer available to stream.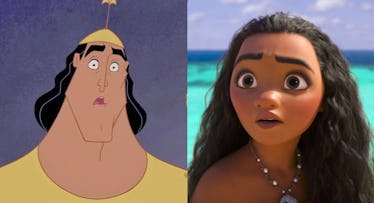 Yesterday, it was announced that Disney as well as, Marvel, Pixar, and Lucasfilm will be pulling its movies from Netflix in order to launch its own streaming service. This is obviously devastating news for kids and parents everywhere, but don't lose all hope quite yet. Because there was some (relatively) good news that came with the announcement: Disney won't be removing its movies until 2019. That means you still have two full years to show your kid all the classics. Here, then, are 10 Disney movies you need to watch with your kid before they disappear from your queue forever. Add 'em to your list and be sure to stream them the next time you're sitting around the screen.
Atlantis: The Lost Empire
Possibly the most underappreciated Disney animated movie ever, Atlantis is non-stop fun from start to finish. Follow Milo and his gang of lovable mercenaries as they set out to find the lost city. It's got all the heart and adventure of a classic Disney movie without the spontaneous singing and anthropomorphic sidekicks.
Pirates of the Caribbean: The Curse of the Black Pearl
The bazillion increasingly expensive and mediocre sequels have seriously tarnished the legacy of Captain Jack Sparrow, but the first film in the swashbuckling franchise still holds up. It's an exciting, inventive movie that is anchored by a once in a lifetime performance from Johnny Depp. After this, the Pirates movies pretty quickly jumped the Kraken, but your kid will delight watching Sparrow argue the pronunciation of parlay with a group of pirates who want him dead.
Zootopia
The winner of last year's Oscar for Best Animated Feature Film, Zootopia tells the story of a rabbit named Judy Hopps who dreams of becoming a cop in the big city. Along the way, Judy learns an important lesson in the danger of labeling others based on appearance (the rare kid's movie that handles a heavy topic like racism without getting too heavy handed) Zootopia is a hilarious, heartwarming tale that everyone in the family will enjoy.
Tarzan
Remembered mostly for Phil Collins' melodramatic soundtrack, Tarzan reimagines the king of the jungle as a brooding adrenaline junkie who was spent his whole life trying to feel like he belongs. This movie is surprisingly emotional while still having the thrills and laughs that audiences have come to expect from Disney. Just be aware: it contains one of the most gut wrenching deaths in Disney history.
Cool Runnings
What happens when John Candy decides to become the coach of four Jamaican bobsledders who were previously track stars and now have banded together for one last shot at Olympic glory? One of the funniest Disney movies ever — based off a true story to boot. Just sit back and enjoy the laughs.
Homeward Bound
After a bulldog, a golden retriever, and a house cat are separated from their owners, they have to overcome their differences to work together and get to their family's new home in San Francisco. Oh, and they can talk. This movie is ridiculous, but it's also better than it has any right to be, thanks to the charming characters and surprisingly emotional story.
Rogue One
Your kid may be a bit young for this dark, gritty Star Wars standalone prequel, but if they are up to it, this is a movie that should not be missed. Framed more as a war movie than a space fantasy, Rogue One tells the story of a group of reluctant rebels who are tasked with retrieving the plans for the Empire's secret weapon. This tense, explosive movie is another rewarding chapter in a galaxy far, far away.
Moana
Forget Frozen, this is the best Disney animated musical since The Little Mermaid and Aladdin. Moana is one of the great heroes in all kid's movies, as she must learn to reconcile her bravery and adventurous spirit with her sense of duty. Plus, it has the Rock as musclebound demigod Maui. And putting the Rock in any movie automatically makes it at least 10 percent better.
The Emperor's New Groove
To be honest, this is a movie that you may end up enjoying more than your kid. They'll enjoy the talking llama and Kronk's buffoonish antics but will likely miss the frenetic, hilarious outpouring of jokes. The Emperor's New Groove never turns down the opportunity to include a non-sequitur or visual gag for a laugh and the result is a movie that gets funnier each time you watch.
The Jungle Book
This live action remake would have been impossible to pull off even 10 years ago, but thanks to advancement in technology, Jon Favreau was able to create a stunning world that felt completely real. Combine that with a classic story and some fantastic voice work from Bill Murray, Christopher Walken, and the rest of the cast, and you can understand why this movie instantly become a Disney classic.