'Are We There Yet?' A Humorous Look at the Ups-And-Downs of Modern Parenting.
Vermont photographer Zachary Stephen's new exhibit explores the 'challenges, stereotypes, and realities of suburban fatherhood.'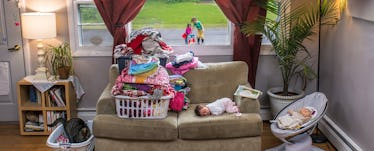 Zachary Stephens
There are plenty of dad artists out there, but not a lot of art focused on being a dad. That's the void Zachary Stephens, a Vermont-based fine arts photographer and father of three young girls, wants to fill with his latest project, Are We There Yet? Through his series of 16 highly constructed tableau images aimed at humorously portraying the ups-and-downs of modern parenting, Stephens "explores the challenges, stereotypes, and realities of suburban fatherhood." And he does it with a remarkable eye (and sense of humor); the images ⏤ which feature his (sometimes reluctant) family and are constructed in Photoshop using separate photographs of each subject ⏤ are striking, funny, and thoroughly relatable. You can't help but nod and smile.
"Each of the photos isn't necessarily a depiction of reality," Stephens says. "They are either a vignette of a parenting struggle that all parents can relate to or they deal with a stereotype that we face as dads. And they're supposed to be a balance between satire and humor, fun and funny, but also a little dark at times." Fatherly recently caught up with Stephens from his home in Hinsdale, New Hampshire, to discuss the project and learn more about each of the images. Here are his thoughts.