Young Families Are Betting on the 'Urban Suburbs' Despite Risks
The great migration begins.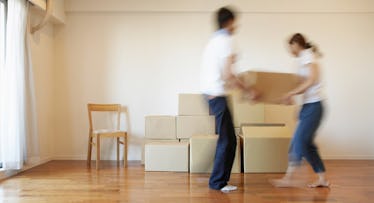 Millennials are beginning a great migration to the suburbs and finding an increasingly urban landscape. According to data from the Urban Land Institute published in TIME, a majority of the suburbs surrounding the top 50 cities in the U.S. saw an increase in 25- to 35-years-olds between 2010 and 2015. This trend was particularly notable on the outskirts of Orlando, San Antonio, and Riverside, California, but it was also noted by economists, who say that the migration may not be in the long term financial best interest of the new suburbanites.
Research suggests that younger adults are moving to the suburbs because they like the city, which sounds strange unless you're up on urban planning. The suburbs that proved most popular provided access to urban amenities–microbreweries, natural groceries, movie theaters–for, according to a recent joint survey conducted by Care.com and Zillow, somewhere on the order of $10,000 less per year year.
The "urban suburb" trend cuts both ways. It attracts young professionals and parents, but it also leads to problems more associated with cities. A recent report from City Lab suggests that along with urban amenities come urban economic stratification and urban crime. In fact, many suburban areas have seen spikes in poverty and crime. That should concern migrants on two levels: Not only does it suggest that safety is an issue, it indicates that the long-term investment in homes and apartments might be poorly considered. Given that Americans often try to build wealth through real estate acquisition, that's worrying for those trying to climb the economic ladder.
And then there's another problem: The suburbs now lack opportunities for gainful employment. That means more time commuting, more money spent on vehicles, and more time spent back in urban centers, which seem o exert a gravitational pull on an entire generation. Researchers have linked a lack of upward mobility to hours spent in transit so convenience isn't necessarily the core issue either.
All that said, it appears that the millennial migration towards the suburbs will likely continue. At least that's the view of some demographers who suggest that millennials are concentrated in cities largely because, for both professional and personal reasons, they feel stuck there. When they come unstuck, the next generation of American suburbanites will have lawns, access to IPAs, and a number of financial and professional problems.
Welcome home.
This article was originally published on