Author Tony Medina Finds Words For the Dreams and Anxieties of Black Youth
The celebrated children author's latest work "Thirteen Ways of Looking at a Black Boy" is a powerful portrait of black youth.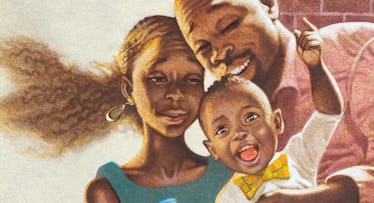 Floyd Cooper/Penny Candy Books
Tony Medina makes poetry required reading for children. A professor of creative writing at Howard University and the author of six children's books, including DeShawn Days, Love to Langston, and I and I, Bob Marley, he regular writes in verse. His books have won numerous awards, including Parent's Guide Children's Media Award and are often feature prominent characters of color.
In his works, Medina also spends a lot of time making sure that black children across the world understand that their life matters. That's pretty evident in his most recent release, a book titled, Thirteen Ways of Looking at a Black Boy, which was released on February 13th. The book is comprised of 13 simple poems that tackle everything from joy to sadness, confusion to confidence, daily woes to daily wins. In short, they address the dreams, anxieties, and hearts of black boys. Accompanying each is artwork from 13 different artists of color that depicts black children in myriad ways: wearing their Sunday clothes, standing on a street corner, as adult doctors. It's a book that celebrates the humanity and power of black children. It's a beautiful, poignant work.
Fatherly spoke to Medina about his work, representing the experience of black children, and why Thirteen Ways is a black lives matter book that doesn't plead for black people's humanity.
What was important to you about showing the breadth of experiences of black boyhood?
Recently, I re-read Langston Hughes's poem, "I, Too, Sing America," that famous poem of his where he talks about being in a society where, because of the color of his skin, he has to eat in the back, and he's treated differently, and put in a separate places from white folks in society, that one day, that they'll really see his beauty and feel ashamed. I think that that is really the onus of the book.
Is representing the experience of black children and people an active choice for you, or do you feel you're just writing your truth and what you know?
I was just at this Black Comics Expo at the Brooklyn Academy of Music. A gentleman who was a Phd student from Birmingham, England, living in New Jersey, asked me about the depiction of santeria from the Yoruba tradition in Africa in my graphic novel, I Am Alfonso Jones. He asked if it plays a big role, or is it just part of the way of life.
I told him, 'That's just the way he grew up. That's the way he was raised. That's part of his culture.' So in essence, when I'm creating my work, like any other artist, it's as natural as breathing. It's going to be naturally political, naturally social, because we're oppressed in our country and in the world, on different levels.
I think it's clear that just showcasing the diversity of the experience of the black boy in America is somehow quietly radical and subversive. Was that something you set out to do?
I don't think I set out to do that consciously. The book could easily be "13 Ways of Looking At a Boy," because I think if you just take the word black out, and you don't have any images, or you change the images to show kids of other backgrounds, you would see that the experience is so universal. Did you ever see that fantastic documentary called Babies?
I did not.
It follows four babies from different parts of the globe. No matter where these babies are on the planet, no matter what culture they come from, they all do the same things. They communicate almost exactly the same. It showed how universal our experiences and how human we are.
Even when you consider the whole notion of genetics and DNA, there was a test that found out that somebody from the heart of Africa had more genetic makeup in common with somebody in Ireland than they did with another African. All of these constructs that are placed upon us in society are just that: constructions of the human imagination and mind.
Was that an insight you took with you into your book?
I think anybody could relate to these experiences with these kids. Girls could relate to them too. I just thought it was very necessary for this particular book to focus on black boys because in our culture, and our society, they tend to be an endangered species. They're targeted from an early age, and put in this pipeline that goes from school to prison. It's like they have a bullseye on their back. There are stereotypes and images attached to black boys. They're not able to even be boys or teenagers. They are automatically seen as monstrous, menacing, or adult.
You could see that clearly with the Trayvon Martin situation, when he was killed by George Zimmerman. When the trial took place, they kept referring to Trayvon, who was 16 years old, as a man. And not a boy. And they infantilized George Zimmerman by calling him Georgie. He was at least 24. He was a hulking adult.
At the end of the day, what is the most important thing to you about the work that you do?
I hope that children of color will feel a sense of representation and connectedness. For other folks, I hope that they see the similarities in the universality of the experiences. I hope that they say, "Oh wow, we have similar universal experiences and emotions and dreams and hopes."
I wrote a Facebook post today because it was 13 Ways of Looking at a Black Boy's first birthday. The status said: "Thirteen Ways of Looking at a Black Boy is a black lives matter book that doesn't plead for our black humanity, but simply expresses the beauty of our collectivity and three-dimensionality while celebrating our being and breathing. We want our children to thrive fully, be recognized, respected, and reflected everywhere in this world."