What to Call Grandma and Grandpa: Great Nicknames for New Grandparents
Fifty names for your kids to call the people who raised you.
by Emily Kelleher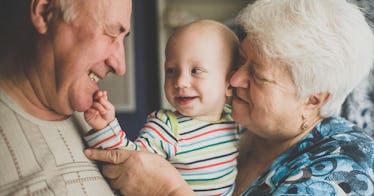 First-time grandparents have a lot to look forward to, and one of the first orders of family business is landing on the right nickname for Grandma and Grandpa. While many families follow tradition when choosing the names grandkids will call their grandparents, others are drawn to names that are unusual or unique or that borrow from entirely different traditions.
Did your grandma go by Mimi or Safta? Did your grandpa go by Poppy or Aba? There's a wealth of inspiring names for grandparents from cultures and traditions around the world — and grandkids' universally adorable struggle to pronounce adults' names. Whether you need nicknames for young grandparents hesitant to age themselves (here's looking at you, Grandude) or grandparent names to distinguish one parent's side from another, we've got you covered. No matter what, hearing the chosen nickname uttered by their children's children will sound like the best thing ever.
Nicknames for Grandma:
Granny
Memaw
Nanny
Nana
Gigi
Mawmaw
Nonna
Ama
Abuela
Ajji
Avo
Bunny
Cookie
Dido
Glama
Lolo
Kitty
Birdie
Mimi
Mommom
Momo
Nini
Oma
Safta
Tata
Yaya
Nicknames for Grandpa:
Aba
Abuelo
Avo
Baba
Beebop
Bubba
Dadu
Dido
Gramps
Grampy
Grandude
Grandy
Nali
Nanu
Nonno
Opa
Oppy
Papa
Papi
Pawpaw
Poppop
Poppy
Popsie
Saba
Sofu
Tutu