More Pre-K Programs Are Held in Elementary Schools. Principals Aren't Prepared For It
A new bipartisan bill sponsored by Mitt Romney aims to help prepare principals for the children filling their schools.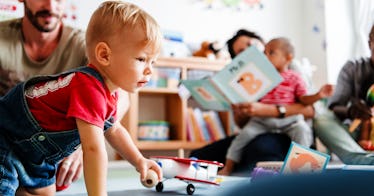 The push for universal pre-k feels, well, damn near universal. While pre-kindergarten and early childhood education aren't linked to better academic performance later on in life, they are linked to profound, life-long health and developmental benefits. In fact, kids who are in pre-k are less likely to be arrested, less likely to struggle with substance abuse as adults, and more likely to complete college. Parents with kids in preschool are more likely to re-enter the labor force — one D.C. study found that after making pre-school free and universal in the city, the labor force among moms with young kids jumped almost 11 percent and was more pronounced for low-income moms.
The push to get more kids in pre-k has been profound. In 1980, 96,000 American children were enrolled in pre-kindergarten programs in public elementary school. By 2016, some 36 years later, that number has risen to 1.4 million. This is, of course, unequivocally a good thing. And while day care and pre-k are prohibitively expensive for many parents — leading to a number of bills in the Senate that would address such cost — more and more pre-k's are being held in public schools.
It makes sense. It's also, by many measures, cost-effective. Universal pre-k advocates have long called for kindergarten and up primary schools to host pre-kindergarten in their buildings to save on the costs of operating separate child care centers, help parents save money, and because, well, many schools already have the infrastructure to do so.
Which is why, of course, Senators Bob Casey, Doug Jones, and Mitt Romney (yes, that Mitt Romney) have put forth a bipartisan bill, the Creating Early Childhood Leaders Act, that would expand on pre-school principals training and help them be better prepared to help the kids in their care.
As more young children go into public school settings to get their pre-kindergarten experience, the question of whether or not they are receiving the fundamental early childhood education that is developmentally appropriate is, well, actually one we should ask. Because, it turns out, a very large swathe of K-5, K-8, K-12 principals who preside over not just kindergarten but also pre-kindergarten classrooms are not always qualified to do so.
Why The Creating Early Childhood Leaders Act Bill Is Needed
Principals are not only figureheads who discipline misbehaving students and send out school newsletters. They are responsible for the rollout of and approval of school curriculum, they plan out the structure of the school day, and give feedback to teachers about the quality of their classes and curriculum. They're also often a student's advocate and communicate directly with families about any concerns they might have about their child or vice versa.
Often, principals advocate to the greater school district about resources they might need for their classrooms, their students and their teachers, and they're one of the most common denominators of greater teacher retention. A good principal can keep a great teacher around for a long while. According to a study by Education Next, principals can be responsible for increasing student achievement by two to seven months over a single school year. (They can also be responsible for diminishing that achievement just as much.)
"Many principals report prior teaching experience in secondary settings, and that's upper elementary grades, So their prior knowledge, and their teaching experiences, don't really facilitate a deep understanding of early childhood education," says Elise Franchino, a research associate on early childhood and elementary education at New America, who also worked in early childhood education for eight years. "A lot of principals have had minimal experiences observing pre-k classrooms and learning about early childhood development, birth-8, prior to becoming school leaders."
In other words: many principals are woefully unprepared to direct curriculum for these kids — and they know it, especially as the population of kids in public schools who are in pre-kindergarten grows. "Forty-four percent of four year olds and 16 percent of three year olds are in publicly funded pre-k programs," says Franchino. While that is not the majority, it does mean that principals who are responsible for these children need to be prepared.
Only nine states in the country require pre-service principals to have coursework in early childhood learning and development; six states and D.C. require principals to have a bachelor degree to be eligible for their principal's license, only four states require principals to take courses beyond a bachelor's, and 40 require elementary principals to get at least a master's degree. When they do earn their license to be principals, in 29 states, they earn an extremely broad pre-k through 12th grade license. In 26 states, new principals either earn a K-12 or elementary school license; meaning that they have very, very limited engagement with pre-kindergarten or even kindergarten students.
Most principals, prior to their licensure, primarily worked in secondary settings — upper elementary grades. One 2015 survey of over 1,100 school principals in public schools across the country found that 53 percent of principals had pre-k in their schools, 65 percent were responsible for the program, but only 1 in 5, or roughly 20 percent, of them felt qualified or well-trained to handle that. Add that to the fact that only 10 states require clinical placements in elementary schools; only nine states provide coursework in early childhood learning and development, and 36 states don't, and you have a real pickle.
Especially because early childhood development doesn't magically end at the end of pre-kindergarten.
"It's really, really important that principals have a strong foundational knowledge of early childhood development, and that really should mean birth through age 8," says Franchino. "That is the continuum of early childhood." The majority of principals are already responsible for a large part of early childhood development, as long as they're responsible for students at the third grade level or younger. And, it's not like principals simply sit at their desks or send schoolwide emails or discipline kids. Principals are instructional leaders who make crucial decisions about classroom curriculum, the structure of a students day, and often oversee teacher evaluations and provide feedback on instruction.
"It's so important for them to have knowledge about how young children learn best," says Franchino. "When they walk into pre-k classrooms, they might see play and mistake it for chaos, and ask teachers to discontinue their methods. They really need a strong knowledge of childhood development to ensure that they understand what developmentally appropriate practices look like in early and elementary school settings in their schools."
What The Creating Early Childhood Leaders Act Would Do
Currently, Title II of the Higher Education Act requires that principals "understand how students learn and develop." Clearly, that is a broad and unspecific expectation, which has been in some part responsible for the current situation that educators, principals, and pre-k and kindergarten aged kids are in now: they're in school buildings led by principals who aren't qualified to instruct for early childhood.
The CECLA would fix that problem by amending Title II to provide clearer guidelines for principals. "Higher education institutions that receive federal grants would be required to provide pre-service elementary principals with techniques to engage a variety of stakeholders — that includes parents, community members, the local education agency, businesses, and ECE providers and community leaders," says Franchino. And as for what pre-service principals will be required to understand? The language, far more focused, would require them to create a goal of understanding child, social and emotional development for children from birth through age eight — a huge step up from previous expectations — so that they can manage, support, and direct curriculum that is developmentally appropriate for the 3 and 4 year olds that might be in their building, but also for the kids who are already in their building, who are as old as the third grade.
Potential Problems With The Creating Early Childhood Leaders Act
As with all major educational reform bills, any bill that puts new requirements on educators, principals, or administrators needs to also be met with additional support by institutions of higher education in the area and the schools themselves.
"Pre-service programs for early educators run the gamut in how well they prepare teachers," says Franchino. "Questions arise on how well institutions of higher education are situated to provide high quality early education training to pre-service principals." Some higher education faculty and staff leadership programs might not realistically have the capacity, staff, or training to train principals in child development — or have the capacity to even have clinical placements in lower grade schools. Plus, the quality of the programs themselves where principals are being trained might vary widely.
These potential problems are not unique to training principles to be adequately prepared for the influx of three-year-olds coming into their buildings, of course. Just consider what happened in Illinois after broad principal reform passed there over a decade ago, per Franchino.
"[Illinois] experienced a really wide variation in implementation and quality of programming provided by institutions of higher education. The weakness for this legislation is that it doesn't clearly and succinctly lay out hw institutions of higher education would go about ensuring that principals are equipped to be instructional leaders of early childhood education programs," she says.