60 Uncommonly Cool Female Dog Names Inspired by History
Your best furry friend deserves a rad name.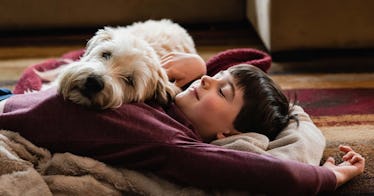 Finding a genuinely inspired and unique girl dog name isn't easy. Looking beyond Bella or Luna takes some serious brain power — but moving past this lovely but low-hanging fruit can yield meaningful results when it comes to naming your girl dog. For inspiration, we looked to the some of the greatest of the greats — inspiring, radical and just plain rad artists, musicians, writers, and all-around legends. You can pay homage to some of the great women in history, and in the present-day, while also landing on a name for your pup that's unique to the world. Whether your dog is from a professional breeder or your local rescue, this list will either unlock the perfect female dog name or, at the very least, spur you on past fields of Daisies and Roses to something surprising and new.
Female Dog Names From the Arts
Annie
Thena
Eros
Gertrude
Tucson
Ceylon
Cee Bee
Emma
Pigalle
Milan
From Music
Cardi
Lilith
Fendi
Brittney
Courtney
Baby
Mandy
Black Heart
Stevie
Mama
From Literature
Anna
Zooey
Austen
Evey
Zora
Toni
Brené
Zelda
Carson
Juno
From History & Politics
Kamala
Roosevelt
Emma
Ida
Nightingale
Amelia
Nellie
Junko
Riddles
Coco
From Movies and TV
Hepburn
Buffy
Zeta
Adrian
Vegas
Bebe
Megan
Harvey
Sparrow
Jenkins
Miscellaneous Female Dog Names
Lady
Susan
Gogo
Bridger
Willow
Cherry
Gadot
Laney
Backroad
Betsy
This article was originally published on