The 50 Best Places to Work For New Dads 2018: Unilever North America
Our list of 50 Best Places to Work For New Dads in 2018 recognizes companies with exceptional paternity leave and benefits programs.
by Fatherly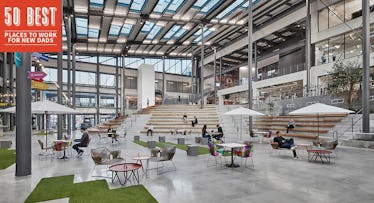 Unilever
Fatherly's annual "50 Best Places to Work for New Dads" ranking is a celebration of corporations committed to helping men manage their dual roles as providers and caregivers. Though only one company can be ranked number one, every company featured has provided real support for working parents with exceptional and thoughtful offerings.
Unilever North America
Rank: 6
2017 Rank: N/AFull-Time Employees: 7,851
Headquartered in New Jersey, the North American arm of the UK-based consumer goods giant, which owns popular brands Axe, Dove, Hellmann's, Ben & Jerry's, Lipton, and Vaseline, had eventful year, turning down a turn down a $143 billion takeover from Heinz/Kraft and posting a four percent sales increase. In 2017, the purveyor of family-friendly goods introduced a family-friendly leave program, extending paid parental leave for full-time salaried employees from four to eight weeks. Helpfully, that leave can be taken at any time during the first year and employees can lump their sick days into that time away to add a total of three extra weeks if need be.
Unilever also offers numerous other perks. The company reimburses would-be parents for adoption-related expenses up to $7,000 per year and offers onsite childcare and backup dependent care, a massive boon to those with little ones. Beyond those considerable offerings, Unilever has a wide variety of programs aimed at parents, including wellness classes, support groups, and a "Milk Stork", which allows new mothers to express ship breast milk during business travel at no cost. More standard employee perks include flexible working hours, a suite of cultural awareness initiatives, on-site gyms, and gender neutral bathrooms.
Fatherly's 2018 rankings are based on a scoring metric inclusive of data related to company policies on the following issues: paid parent leave, ramp-back time, flextime, onsite childcare, childcare subsidies, backup childcare, number of sick days, support groups, fertility aid, adoption aid, student loan assistance, education funding, bereavement leave, elder care planning. Length of paid leave, onsite childcare, and ramp-back time were the most heavily weighted ranking factors.