The 50 Best Places to Work for New Dads in 2018
These companies are setting a new standard.
by Fatherly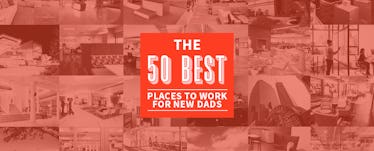 This is the fourth year that Fatherly has compiled its annual "50 Best Places to Work for New Dads" ranking. In that time, there have been an encouraging number of positive changes made to parental benefits packages at America's most successful companies. This has resulted in a number of changes and additions to the list. Those changes have also been the result of adjustments to Fatherly ranking rubric, which is now better designed to reflect the experience of new fathers rather than just the suite of perks. What does this mean? In short, that this ranking factors in paternity leave, but also celebrates companies with ramp-back time, flex time, and, even more importantly, child care offerings.
It is important to note that all the companies on this list boast extraordinary employee offerings. They should be lauded for showing deep concern for the needs of their employees and their employees' families. Still, it is important to note that the fact that these companies are exceptional is a product of the lack of a national paid parental leave policy and the dearth of paternity perks available to American workers.
What this list now represents is a reason for hope. A majority of the companies on this list updated their benefits packages for new dads or moms in 2017 and 2018. Fatherly found that many companies that did not make the cut had done so as well. A cultural shift is underway and that's great news for working dads. These are the 50 companies leading the charge.
1. American Express
2017 Rank: 3
Number of Employees: 20,000 in Domestic, 32,000 International
Since drastically updating its parental leave policies in January 2017, American Express has done a remarkable amount to provide continued and increasing support to the parents in its workforce. Notably, American Express does not only offer 20 weeks of paid parental leave (as well as additional leave for mothers giving birth), the company actively lobbies its employees to take the time off. The #dontmissamoment campaign specifically targets fathers, urging them to take all the time off that they can and providing opportunities to hear about other fathers' experiences while on leave. That program is augmented by a Focus on Fatherhood program, which brings together Amex dads for breakfast discussion about work-life balances and connecting with kids.
Even before new dads start to attend events, they are eligible for significant reproductive benefits. Amex offers would-be parents $35,000 to defray costs associated with fertility treatments, surrogacy, and adoption. Parents can take advantage of that perk twice.
Though Amex only offers on-site child care at its location in Sunrise, Florida, it subsidizes 20 days per year of at-home care as well as discounts at child care centers all over the country. In addition, American Express offers a both Care Crisis Assist, a program that reimburses parents $80 toward the cost of hiring backup caregivers (including family members) in the case of an emergency as well as flex time in order to allow parents to stay home if need be.
In addition to offering considerable support for parents, Amex offers considerable support to employees who have parents, including eldercare support workshops and budgeting education to help make financial ends meet. The company also offers bereavement leave, allowing its employees to find the time to grieve as well as celebrate, proof of an overall understanding that its work that interrupts life, not life that interrupts work.
While some other companies at the top of this list are not profitable or have had pressure on them to reduce employee benefits, American Express, which has returned to its original focus on providing high-end services to high-worth individuals, had a banner year in 2017.
2. Lenovo
2017 Rank: N/A
Number of Employees: 50,000 globally, 4,338 in the United States
Global smart device maker Lenovo offers members of its growing American workforce and impressive array of benefits and remarkable flexibility. Why? Because the company, which operates out of US headquarters in North Carolina, believes overall corporate efficiency is best optimized by allowing its employees to personalize their situations. "Lenovo's philosophy focuses on getting the work done and not how long the employee is in the office," explains Lenovo's Director of Global Diversity and inclusion S. Humphries. The company is also committed to offering great maternity leave (24 weeks of paid time off) and less-great but still good paternity leave (8 week of paid time off).
Where Lenovo really sets itself apart is in providing its employees with flex time and flexible leave to handle any sort of family emergency (as well as backup childcare through Bright Horizons). Though the company has a way to go when it comes to offering support for fathers, it is unusual for a firm of its size and success for investing a tremendous amount of time and energy in creating a family-friendly environment, hosting a major yearly event for children of employees, providing resources for parents of special needs children, and emphasizing inclusivity.
In both 2017 and 2018, Lenovo received a perfect score on the Human Rights Campaign's Corporate Equality Index, which measures, among other things, support same-sex couples and their families.
3. Spotify
2017 Rank: 4
Number of Employees: 3,000
The Swedish music streaming platform that revolutionized the music industry (or "disrupted" it if you don't mind that verb) had a monster 2017, increasing listenership across most of its categories — notably hip-hop, which shot up over 70 percent. Though the company has prioritized reach over grasp, embracing a model that has yet to see it turn a profit, its treatment of employees is famously humane. Spotify adopted a 6-month parental leave policy back in 2015, putting it in the vanguard of socially responsible New York City tech companies and but still well off average benefits in Sweden, where parents are entitled to 480 days of paid leave after the birth of a child.
Though Spotify does not offer onsite child care, it does offer a child care subsidy and backup support for parents in case of emergency. It also offers aid for parents trying to both conceive and adopt. Given its proactive stance on issues related to work/life balance, it seems likely that Spotify will remain near the top of this list for years to come.
4. Etsy
2017 Rank: 2
Full-Time Employees: 1,043
Headquartered in Brooklyn, Etsy, a global marketplace for creative (crocheted, bird-covered) goods, remains a standard bearer for the wellbeing of white collar workers. No longer a B Corporation, Etsy employs hundreds of programmers, customer advisors, and marketers who, in the wake of some high-level restructuring following a first quarter loss in 2017, now roll up into a largely new management team led by former American Express President of Consumer Products and Services Josh Silverman. Though Etsy, which is now publicly traded, was the subject of rumors do to the management shuffle, the company remains healthy (it posted its first $1 billion sales quarter in Q4 of 2017) and its employee perks, including 26 weeks of paid parental leave for all full-time employees, remain impressive.
Though Etsy lacks the notable child care programs that some other companies in Fatherly's top 50 boast about, it does provide assistance programs for parents of special needs children and offer unlimited sick leave, which employees are encouraged to use to care for their children. Etsy also offers and adoption assistance program and, more famously, a suit of well-being programs so extensive that activist investors have pressured to company executives to chill with all the yoga.
5. Twitter
2017 Rank: 6
Full-Time Employees: 3,300
The Bay Area's other social media giant was, like many more successful and public facing technology firms, was an early adopter of parental leave policies that helped set a family-friendly standard for how tech companies recruit and retain talent. The preferred podium for President Trump, Twitter has attracted a fair amount of criticism over the past several years. Still, the company has remained committed to the humane treatment and of its 3,300 employees and implemented a number of new anti-discrimination and abuse programs while continuing to offer new parents 20 weeks of parent leave.
When new parents return to work, they are eligible to join a group called Twitter Parents, which provides support to all parents in the company and works with many partners to provide discount rates on goods and services specifically for moms and dads. Aside from its parental leave benefits, the company a robust suite of employee perks, including free meals and an on-site Crossfit gym where coders sweat alongside management.
6. Unilever North America
2017 Rank: N/A
Full-Time Employees: 7,851
Headquartered in New Jersey, the North American arm of the Rotterdam-based consumer goods giant, which owns popular brands Axe, Dove, Hellmann's, Ben & Jerry's, Lipton, and Vaseline, had an eventful year, turning down a $143 billion takeover from Kraft Heinz and posting a four percent sales increase. In 2017, the purveyor of family-friendly goods introduced a family-friendly leave program, extending paid parental leave for full-time salaried employees from four to eight weeks. Helpfully, that leave can be taken at any time during the first year and employees can lump their sick days into that time away to add a total of three extra weeks if need be.
Unilever also offers numerous other perks. The company reimburses would-be parents for adoption-related expenses up to $7,000 per year and offers onsite childcare and backup dependent care, a massive boon to those with little ones. Beyond those considerable offerings, Unilever has a wide variety of programs aimed at parents, including wellness classes, support groups, and a "Milk Stork", which allows new mothers to express ship breast milk during business travel at no cost. More standard employee perks include flexible working hours, a suite of cultural awareness initiatives, on-site gyms, and gender-neutral bathrooms.
7. IBM
2017 Rank: 40
Full-Time Employees: 366,000
NY-based IBM remains at the forefront of computing research, pioneering new AI and cybersecurity technologies while investing in blockchain and quantum computing. In 2017 alone, the company filed more patents than any other US company, some 9,043, continuing a 25-year streak. The company also remains forward-looking on all things family. In October 2017, the company increased paid parental leave for its 380,000 full-time employees from 14 to 20 weeks for birth mothers and doubled paid parental leave for dads, partners, and adoptive parents to 12 weeks. Parents can take the allotted leave any time in their child's first year.
IBM also provides on-site child care at several of its larger locations, making the transition back to work and the years before preschool that much easier to manage. In addition, the company offers an adoption and surrogacy assistance plan that reimburses those who want to or have had children via IVF, adoption, or surrogacy up to $20,000 as well as a "Our Special Care for Children Assistance Plan" which reimburses employees up to $50,000 for applicable services for children with mental, physical or developmental disabilities. A robust flextime policy rounds out its parent-friendly perks.
8. Netflix
2017 Rank: 1
Full-time employees: 4,000
Netflix knows what it takes to make the whole world binge. In 2017, the streaming giant had a counted some 117,600,000 million subscribers and, in 2018, execs are continuing their aggressive expansion, signing a number of major names, including Ryan Murphy, Shonda Rhimes, and Barack and Michelle Obama, to their production slate. Netflix, it seems, thinks big. And that extends to its treatment of its employees as well. The company, which has grown to more than 4,000 full-time employees, famously offers tons of flexibility and perks to elite employees that thrive in a feedback-centric and competitive environment. That means that company and employees and their managers are free to work out a plan that tailored to the specific situation. There is no hard cap on the amount of leave employees can take, but "unlimited" might be a misnomer as employees at companies with unlimited vacation policies often wind up taking less time off for a range of expectations-related reasons.
It's worth noting that Netflix does not offer statistics on how many people take advantage of its full offering, which is the sole reason that the company does not currently top out this list. That said, there's plenty of reason to believe that the flexibility Netflix gives its employees is as meaningful as the suites of perks — many of which it also offers — available at the other elite companies on this list. What is also very clear is that Netflix's massive success and singular work culture has become a model that many CEOs look to for guidance.
9. Deloitte
2017 Rank: 10
Full-Time Employees: 55,608
With U.S. headquarters in New York City, Deloitte is biggest of the so-called "Big Four" accounting service firms with some 55,608 full-time employees. Since the introduction of their extended family leave program in 2016, the entirety of their sizable workforce has been eligible for an industry-leading 16 weeks of paid parental leave.
The perks don't stop there. While the company does not have onsite care, they offer emergency back-up dependent care, which can be used when you need to be at work and your regular child or adult/elder care is unavailable. Care is available through more than 2,000 centers and a network of in-home caregivers. Other benefits include up to $25,000 for infertility services, as well as a separate $15,000 lifetime maximum for infertility prescriptions. Adoption and Surrogacy Reimbursement Program (up to $25,000 per child).
Still, the heart of Deloitte's program is the open and generous paid leave policy, which has profoundly helped numerous employees. "As a gay man that anticipates growing a family through adoption, I am sincerely grateful to have the opportunity to have significant paid time off to bond with my child," an employee recently wrote in a note to the company CEO Punit Renjen, a father himself.
10. Bank of America
2017 Rank: 8
Full-Time Employees: 200,000
At Charlotte, North Carolina-based Bank of America, the nation's second-largest bank with over 4,600 banking locations, things are going very well. Thanks in part to a strong economy and tax cuts, the bank posted $6.9 billion in profits in just the first quarter of 2018. And employees are seeing the benefits of corporate growth in the forms of perks like paid parental leave, which the company now offers to 200,000 full-time workers. Under the company's parental leave program, these employees are eligible for 16 weeks of paid leave. According to the company, an unusually high 96 percent of eligible male employees who welcome a new child take advantage of this benefit, which clearly speaks to a healthy work culture.
Bank of America also provides employees with childcare subsidy and support for emergency childcare. As a mostly symbolic benefit, every new parent receives a new child welcome kit containing a branded onesie, a digital thermometer, and a booklet with information about company programs. This may be a small gesture compared to the other benefits on offer, but it is indicative of how the company has convinced employees to actually take time off — by communicating genuine interest in the well-being of families.
11. Square, Inc.
2017 Rank: 11
Full-Time Employees: 2,438
The company that disrupted how small business receive payments has moved from disruptor to financial tech leader, with 2,438 employees in San Francisco, a count that does not include their still-pending $365 million acquisition of e-commerce site Weebly. Leading the way as well for Silicon Valley employee benefits, Square offers an impressive 16 weeks of paid parental leave. That number should not shock those aware that Square actually shares a CEO, Jack Dorsey, with Twitter.
The company's offerings for parents don't end at leave. The company also covers fertility treatment (via Progyny), and pays up to $10,000 per child for adoption and surrogacy financial aid. As an added and very San Francisco perk, parents get $500 Caviar gift cards, a babysitter allowance, and parenting support service at Square's Guidance Resource Center.
12. Lyft
2017 Rank: N/A
Number of Employees: 2,600
Though heavily invested in autonomous cars, Lyft knows it's people that make the company flourish. The company, headquartered in the vibrant SoMa neighborhood of San Francisco, places a strong emphasis on providing an open and inclusive workplace. And that inclusivity applies to parents. New parents are offered 18 weeks of paid leave, which can be taken all-at-once or in weekly increments within a year of birth. This benefit is open to biological, adoptive and foster parents.
Lyft also offers support groups for parents like UpLyft Parents, an internal group that helped shape the company's paid leave policy, and planned Lyft's recent "Take Our Kids to Work Day." The company also partners with the company Lyra, which provides mental health support to new parents, to provide more meaningful support — an unusual and impressive perk.
13. Pinterest
2017 Rank: 12
Number of Employees: 1,200
Pinterest boards across the world serve as inspiration for new parents. The company's policies probably should as well. The San Francisco-based social media player, which tweaked its policy last year, now offers 16 weeks of fully paid parental leave to both full-time mothers and fathers. It is worth noting that company statistics indicate that most employees don't take full advantage of their leave. However, the fact the company tracks this is indicative of a long-term commitment to helping caregivers.
In addition to time off, Pinterest offers a month of "ramp up" time, during which new parents start part-time and gradually add hours as they get more comfortable splitting time. The company also provides adoption and surrogacy reimbursement, four one-on-one sessions with a parenting coach, four IVF treatments, credits with UrbanSitter and a subscription to BookTree, a service which delivers ten children's book a month to borrow.
14. Patagonia
2017 Rank: 9
Number of Employees: 1,550Median Salary: N/A
In 2016, Patagonia's Malinda Chouinard and her longtime colleague and friend Jennifer Ridgeway released a book entitled, Family Business: Innovative On-Site Child Care Since 1983. The tome is a guide to how to create a family-friendly workplace and no two people could be better position to author it. As the title suggests, Patagonia, which offers 12 weeks of fully paid leave, has demonstrated a commitment to families for 25 years. The California-based company famously offers on-site child care at its Ventura, California, campus, a program it recently expanded to its Reno Distribution Center, where approximately two thirds of the company's employees work. Both the Great Pacific Child Development Center in Ventura and the Truckee River Developmental Center in Reno offer daycare, preschool and afterschool programs. Naturally, there's a heavy emphasis on getting outdoors.
Patagonia also offers a massive number of additional perks, including $15,000 in funding for fertility treatments, adoption assistance, free healthcare, a subsidy to employees in locations that don't have access to on-site childcare, and a travel support program that allow kids under the age of one and a caregiver (company-provided or parent-chose) to accompany employees on work trips. The company also operates on a "9/80" schedule, which means that every other week has a three-day weekend. When the campus is closed, the company reimburses employees for childcare costs.
15. CA Technologies
2017 Rank: 14
Number of Employees: 5,675Median Salary: 127,500
Manhattan-based CA Technologies creates business-to-business software for prominent clients (think: Fortune 500) and government organizations. The majority of the company's American employees — CA maintains 40 offices in the United States alone — work as full-time software engineers. These workers now find themselves benefiting from perks common in Silicon Valley and startups, including 12 weeks of paid parental leave. CA Technologies expanded that offering at beginning 2017, doubling the time offered from six weeks to 12 weeks.
Along with a number of other benefits for new parents, including adoption assistance and a phase back to work program, CA Technologies offers nine days of sick leave that employees are free to use to take care of their spouse or domestic partner, child, parent, grandchild, grandparent, or sibling, as well as the same for their spouse's relatives.
16. LinkedIn
2017 Rank: 37
Number of Employees: 11,800
One of the biggest names in the networking and hiring game (560,000,000 accounts and counting), LinkedIn is headquartered in Sunnyvale, California, and has a very Silicon Valley approach to both corporate growth and employee wellbeing. Launched in 2003, LinkedIn boasts millions of users on its social network, which was bought by Microsoft in late 2016. The majority of LinkedIn's workforce perform sales and technical jobs. All are entitled to 12 full weeks of paid leave for a birth, adoption, or surrogacy.
LinkedIn's generous leave policies are bolstered by a ramp-back program that allows dads to return part-time for up to four weeks at the tail-end of their leave. The company also offers a generous 10 days of backup childcare, employees are also given a reimbursable allowance of up to $2,000 for childcare, day camp, or after-school care expenses. That allowance can also be spent on gym memberships, fitness classes, house cleaning, pet walking, tax prep, elder care, house cleaning, elder care, and/or dog walking.
17. VMware
2017 Rank: 7
Number of Employees: 12,267
A leader in cloud infrastructure and digital workspace technology, VMware is located in Palo Alto, California, where the majority of its employees work as software engineers. This publicly-traded subsidiary of IT giant Dell produces software that helps companies to securely connect, manage and automate their complex digital infrastructure for Microsoft Windows, Linux, and MacOS. VMware offers 18 full weeks of family leave to full-time employees welcoming a new child.
Along with this impressive amount of time for bonding and taking care of a newborn, VMware offers and additional 10 sick days that can be used for any family member, and 12 days of backup care in case of an emergency. Every new parent is also gifted a $250 Welcome Baby Gift, as well as a personal VMware diaper bag.
18. NVIDIA
2017 Rank: 15
Number of Employees: 6,519
Based in Santa Clara, California, NVIDIA designs the graphics processing units that make video games and movie special effects look awesome. Company employees are entitled to 12 weeks of fully-paid leave after the birth of a new child and mothers are offered 10 weeks off in advance of that birth. Following leave, dads and moms can both take eight weeks of flex-time to ease back into working while taking care of their newborn, and NVIDIA supports a strong culture of employees creating their own schedules.
Along with seven days of sick leave that can be used for children, NVIDIA offers elder care support, as well as advocacy services and support for parents of special needs children. Mothers also get access to rooms and pumps for breastfeeding, and a front-row parking spot during pregnancy.
19. The National Basketball Association
2017 Rank: N/A
Number of Employees: 1,500
Perhaps the healthiest of America's major sports leagues, the NBA is committed to engaging with social causes and supporting its employees who are also parents. Headquartered in New York, the league employs people across the globe, all of whom are entitled to 12 weeks of fully paid parental leave. The NBA is notable for offering this perk not only to full-time employees but to part-time employees after 90 days of employment.
The NBA also offers employees backup emergency childcare, a dependent care flexible spending account, and access to Cigna's Healthy Babies Program. The NBA also offers access to, well, the NBA, which many would consider a major perk.
It is worth noting that the most visible people associated with the NBA, professional basketball players, are not actually employed by the league. NBA players, who rarely take extended leave and tend to face criticisms from fans and talking heads for taking even a game off for personal reasons during a season, work for individual NBA franchises and negotiate the terms of their employment with their individual employers.
20. Genentech
2017 Rank: 22
Number of Employees: 15,000
Based in South San Francisco, Genentech is one of the premier pharmaceutical corporations in America. In 2017, the company showed its commitment to supporting new parents by increasing its parental leave policy to eight weeks for both "primary" and "secondary" caregivers. The leave is available to all of the company's nearly 15,000 full-time employees.
And parental leave is far from the only benefit Genentech has for new parents. Employees also have all-important access to the company's onsite childcare and the ability to put childcare subsidies toward individual caregiving solutions. Genentech also has generous flextime policy, which parents returning to work from parental leave may be able to use to work from home or adjust working hours to fit their unpredictable parenting schedules. On top of all of that, the biotech company is loaded with cool perks that help parents achieve a healthy work-life balance, including onsite dental, gym, medical care, dry cleaning and a concierge service.
21. Microsoft
2017 Rank: 17
Number of Employees: 124,293 GloballyMedian Salary: $145,978
Microsoft may feel like an old-school tech company, but it has a decidedly new-school approach to employee benefits. Based in Redmond, Washington, Microsoft offers 12 weeks of fully-paid parental leave to its employees, many of whom live in the very family-friendly Seattle suburbs.
In January, Microsoft announced that it was increasing adoption assistance benefit from $5,000 to $10,000 per adopted child, which also covers some surrogacy expenses. Microsoft does not offer onsite childcare to parents but they offer "near-site" solutions, plus childcare subsidies and discounts at several daycare centers. They also provide assistance to parents with special needs children, as employees are given access to Autism/ABA therapy and a program through Rethink for assistance with children with learning or behavioral challenges.
22. eBay
2017 Rank: N/A
Number of Employees: 14,100Median Salary: $123,000
Since 1995, eBay has been one of the largest commerce platforms. Today, millions buy and sell goods using eBay's trademark bidding system or simply treat eBay as a more traditional (albeit massive) store. The San Jose-based company has more than 14,000 employees, made up of mostly engineers, and offers all full-time employees an impressive 12 weeks of fully paid parental leave for both primary and secondary caregivers to all full-time employees. Part-time employees, which make up approximately half of the company's staff, are also eligible to 12 weeks of parental leave, though they are only paid a prorated amount, while contractors are not given any parental leave.
Although eBay does not offer onsite childcare nor childcare subsidies which are offered by other companies on the list, the company does offer backup childcare support in case of emergencies, along with backup dependent care. The company also has a flextime policy that nearly all employees take advantage of the policy, which is a massive boon to working parents. Additionally, eBay helps employees to enroll in classes or programs if they are interested in learning new skills.
23. Facebook
2017 Rank: 5
Number of Employees: 37,666
Headquartered in Menlo Park, California, Facebook is likely best known for being the pre-eminent social platform used by more than two billion people across most of the planet. Facebook has long been a leader on issues related to work/life balance and offers robust benefits for parents, including 17 weeks of paid parental leave.
Facebook also provides financial support to parents who are trying to conceive or adopt and a daycare reimbursement and child care subsidies to those who have — as well as backup childcare services in case of emergencies. Facebook employees also have unlimited sick days, three paid days for family sick time and 6 weeks paid family leave. and three specific paid days set aside for childcare.
24. Airbnb
2017 Rank: 19
Number of Employees: 4,000+
Headquartered in San Francisco, Airbnb has 4,000 employees working all over the globe and has been massively expanding both its reach and its headcount over recent years. The company, which has disrupted the hotel industry, offers 10 weeks of paid paternity leave (and 12 weeks of maternity leave). The parental leave policy extends to mothers, fathers, same-sex couples, and people who adopt their children. The leave does not all have to be taken at once. These parental and maternity leave programs are offered in conjunction with what Airbnb refers to as a "Return to Work" program, in which new parents who are returning to work can work four day weeks for up to eight weeks after their return.
Airbnb does not offer aid to parents who are trying to conceive or adopt, although they have expressed interest in doing so. They also do not provide on-site childcare, but they partner with Bright Horizons for back-up childcare and arranges tuition discounts at childcare centers and at tutoring and test prep organizations. AirBnB also allows employees to take sick leave to care for their children should they fall ill.
25. Ikea USA
2017 Rank: 45
Number of Employees: 18,838
IKEA is, rather famously, a Swedish company. IKEA U.S., however, is headquartered in Conshohocken, Pennsylvania. Most of the American employees work in distribution warehouses. Those that have done so for more than a year are entitled to 12 weeks of parental leave and those who have done so for three years or longer are entitled to 16 weeks of parental leave. The first half of the offered leave is fully paid; the second half is paid at half of the employee's salary. Employees can take leave all at once or incrementally.
26. Johnson & Johnson
2017 Rank: 21
Number of Employees: 134,000
New Jersey-based pharmaceutical giant Johnson & Johnson, the company behind popular household brands like Band-Aid, Tylenol, and Johnson's Baby Power, remains one of the largest companies on this list with over 134,000 employees. This last year, J&J expanded its parental leave policy internationally, building on policies that have been in effect stateside since 2015. The company now offers eight weeks of paid time off to all parents in every country where it has operating companies.
In addition to a generous and meaningful flextime policy, J&J offers onsite childcare at its New Brunswick headquarters and six other US locations. The company also offers coverage for fertility treatments up to $35,000 and reimburses employees who adopt a child up to $20,000.
27. Prudential Financial
2017 Rank: N/A
Number of Employees: 17,413
New Jersey-based Prudential Financial offers investment, insurance, and financial services in over 30 countries across the globe. With over 17,000 full-time employees, a plurality of whom work as customer service associates, Prudential is making an effort to update its benefits package. Since April 1, the company has offered new mothers and fathers 10 fully paid weeks off — up from four — that can be taken at one time or up to three segments. The company also offers fertility services, a $10,000 reimbursement for adoption, and an expectant parent coach to help navigate the company's benefits.
While Prudential doesn't offer full-time on-site daycare, it does subsidize the cost of the childcare at over 2,500-plus eligible centers and offers emergency backup care at two corporate facilities. All employees are eligible for 22 days of PTO after one year.
28. Akamai Technologies
2017 Rank: N/A
Number of Employees: 3,500 in the United States, 7,650 Globally
The brainchild of an MIT engineer, Akamai Technologies is a Cambridge, Massachusetts-based Akamai Technologies is a leading provider of cloud computing services and content delivery in over 120 countries worldwide. Its 3,500 U.S. employees receive 10 weeks of paid family leave at full salary to either care for a new child or an ill family member. And while Akamai doesn't offer conception services, it does offer adoption reimbursement and a wide-ranging employee assistance program that includes everything from one-on-one counseling to help identifying suitable daycares or summer camps.
Akamai also stands out for its flexible work arrangements, daycare and Au Pair discounts, 15 days of subsidized back-up child care, and even free memberships to Care.com. Even more fitting a tech company, the company also provides new parents with a free personal concierge service to "help shrink employees' to-do lists and save valuable time," as well as on-site chair massages and tax preparation.
29. Horizon Blue Cross Blue Shield of NJ
2017 Rank: Unranked
Number of Employees: 5,570
Based in Newark, Horizon Blue Cross Blue Shield of New Jersey is a not-for-profit health insurance corporation that provides medical coverage to over 3.8 million people across the Garden State. One tenth of the company's 5,500 employees are either full-time call center associates (manage care coordinators) or registered nurses, and all are, as of January 2018, eligible for six weeks of full paid parental leave (up from two weeks). According to company statistics, 96 percent of eligible male employees have taken advantage of paternity leave since it has been offered.
Blue Cross Blue Shield also offers assistance to employees trying to conceive and those planning to adopt. Not only that, the company offers flextime benefits, on-site and emergency childcare, and a subsidy to defray daycare costs.
30. Boston Scientific
2017 Rank: N/A
Number of Employees: 14,142 in the United States, 29,000 Globally
Boston Scientific, with corporate headquarters located Marlborough, Massachusetts, is a medtech company focused on addressing unmet patient needs and reducing healthcare costs While creating innovative medical interventions like the Heartlogic heart failure diagnostic service, Boston Scientific employees have access to excellent benefits. The company's ranking on this list went up this year thanks to a 2017 policy change resulting in an increase in paid leave that doubled time for non-birth parents from two to four weeks. Birth mothers receive 12 weeks of paid leave.
Boston Scientific helps new parents with on-site childcare at discounted rates at their three largest U.S. locations. And they provide employees with 10 days of backup emergency childcare. Additionally the company offers a variety of flextime programs including "compressed workweeks", telecommuting and gradual return to work.
31. BASF
2017 Rank: 23
Number of Employees: 18,200Median Salary: $100,900
Located in New Jersey, BASF is a giant in the chemical industry. The bulk of the company's employees work as production technicians aiding in the manufacture of chemical compounds for products like ibuprofen. The company changed its leave policy in 2017 offering a full 8 weeks of paid parental leave for both new and adoptive parents and three weeks for foster parents. New mothers, on the other hand recieve 14 weeks of paid leave for a regular delivery and 16 for a cesarean delivery. BASF also offers employees a company-paid adoption benefit covering costs of adoption up to $5,000 and fertility treatments are covered up to a $10,000 lifetime cap.
While BASF does not have any specific perks for child care once a kid is born, the company offers a "consulting firm" for working parents seeking career resources and advice as well as a generous flex time program called "Designed to Fit" which allows employees to telecommute based on certain contingencies. About 40 percent of current BASF employees take advantage of that program.
"We believe that our working families should be there for the life-changing and momentous occasions, the times they are needed most," explains BASF Total Rewards Manager Lauren Gaul.
32. Google and YouTube
2017 Rank: 32
Number of Employees: 72,000
Google, an up-and-coming company banking on a little thing called "internet searching," and YouTube, its sister company — both operate under the corporate umbrella of Alphabet — are the two largest search engines on the planet. Google and YouTube are so strongly associated with the open internet that both companies names are treated as verbs. In keeping with this success, both companies employees, are treated to extraordinary perks. YouTube and Google employees, nearly a third of whom of which work in research and development, are offered 12 weeks of paid parental leave.
Google's ramp-back policy is perhaps the most attractive of the company's myriad benefits. Employees are allowed to work at half-time for two weeks at full pay as they get back into the groove. Also, the food at the Googleplex is excellent.
33. The PNC Financial Services Group
2017 Rank: N/A
Full-Time Employees: 53,000
Headquartered in Pittsburgh, PNC is one of the largest diversified financial services institutions in the United States and employs tens of thousands of people in 19 states and the District of Columbia. In 2016, PNC enhanced its parental leave policy to give eligible fathers, mothers and adoptive parents up to six weeks of leave at full pay.
PNC is a particularly appealing employer for parents in Pittsburgh and Philadelphia, where the company provides 20 days of onsite backup childcare. These centers also offer seasonal "camps" when schools are typically closed, as well as up to eight weeks of full-time "transitional" childcare to parents returning to work after welcoming a new child. PNC also has a flextime policy to help parents out of sticky situations.
34. Ultimate Software
2017 Rank: N/A
Full-Time Employees: 4,200
Developers working at Ultimate Software can rest assured that the technology company has their backs. Ultimate Software, which sells cloud-based HR software for businesses, is based in Weston, Florida — making it the rare company on this list not in the Northeast or California — and offers 10 weeks of paid parental leave.
In addition to parental leave, Ultimate offers a suite of benefits that appeal to parents. There are childcare subsidies and backup childcare support offering as well as unlimited paid time off to stay home with their sick children. Ultimate also offers several programs for new parents, including a special group known as UltiBabies, which provides resources and support for all employees with small children.
35. Mastercard
2017 Rank: 24
Full-Time Employees: 13,400
Based in the aptly named Purchase, New York, Mastercard is a major employer in St. Louis and nationwide (23,000 financial institutions issue its cards). Since 2016, the company has offered new fathers eight weeks of paid leave as well as a Flex Work program that allows parents to work remotely or on odd schedules, helping balance work demands with family responsibilities.
One program unique to Mastercard is Reproductive Resource Services, which offers employees free access to infertility treatments and covers up to $30,000 in IVF and fertility treatments. "Mastercard recognizes and respects our employees' needs to succeed both at work and in their personal lives," Executive Vice President of Total Rewards Susan Kunreuther told Fatherly. "We're committed to being a workplace that welcomes and enables working fathers, working mothers and all employees to take care of their work and family obligations responsibly through all stages of their lives."
36. PayPal
2017 Rank: 31
Full-Time Employees: 18,700
Based in the heart of Silicon Valley, PayPal's team of corporate engineers operate a worldwide open digital payments platform, allowing vendors and individuals to pay and get paid. Earlier this year eBay, which bought PayPal in 2002 and spun it off in 2015, announced that PayPal will cease processing its credit card payments as of 2020, although it will remain an option for shoppers on eBay. Until then (and perhaps long after) PayPal will continue to offer a competitive 8-week parental leave program for its 18,700 employees.
Although PayPal does not offer on-site childcare in the U.S. it does provide flex time for busy parents, as well as 10 days of backup childcare support per year, in case of emergencies. The company also offers the innovative MilkStork program, which lets mothers ship their breastmilk home at no cost, and provides hospital-grade breast pumps in dedicated nursing rooms. They've also made strides in helping employees become pregnant in the first place, with a new surrogacy program that provides up to $10,000 for expenses.
37. Zillow
2017 Rank: 27
Number of Employees: 3,250
Based in Seattle, Zillow is well known to anyone who has looked for a place to live in the last decade. Zillow is also a family-friendly business operating in a fiercely competitive market alongside Starbucks, Amazon, and Microsoft. As such, fathers employed at the company are eligible for eight weeks of paid leave and employees reliant on sales income are eligible for commision relief. Mothers at Zillow receive 16 weeks of full paid leave.
Zillow also offers 16 days of backup childcare per year as well as a unique new $1000 bonus for employees welcoming children into the corporate family. The company's flextime arrangements — case by case, but common — make it easier to split time between the office and home.
"Our perks reflect what's most important to our employees and their families," explains Chief People Officer Dan Spaulding. "When my daughter was born 13 years ago, and I was at another company, I had to take vacation time to spend time with her and my wife. I am so proud that new fathers at Zillow Group can take two months of paid time to bond with their family."
38. S&P Global
2017 Rank: N/A
Number of U.S. Employees: 5,462
S&P Global is a leading provider of transparent and independent ratings, benchmarks, analytics and data to the capital and commodity markets. The company is headquartered in New York City with offices and employees worldwide.
Effective October 2017, the company strengthened its paid parental leave offering from three to eight weeks for both full-time and part-time employees while continuing to offer flex-time arrangements to make it easier for parents to manage competing life-work priorities.
Other family support programs at S&P Global include emergency dependent back- up care, adoption assistance & an employee assistance program.
39. Cooley LLP
2017 Rank: N/A
Number of Employees: 1,770
Cooley LLP, a national legal firm headquartered in Palo Alto, California, updated its parental leave policy in 2016 to provide attorney "primary caregivers" with 20 weeks of fully paid parental leave and non-attorneys with 12 weeks of fully paid parental leave. Though primary leave is offered to both men and women, programs that require "primary" and "secondary" delineations rarely often dissuade men from taking advantage of a company's full offering. However, Cooley still makes the list because of its generous "secondary" offer of 10 weeks of paid parental leave.
In addition to their parental leave, the firm offers assistance to expecting and new parents and assistance to parents trying to conceive, although the details on that assistance are not clear. Backup daycare options are provided, but adoption support, onsite childcare, and assistance through a childcare subsidy are not. Employees have 10 sick days a year and are allowed to use those to take care of their children, should they get sick.
40. State Street Corporation
2017 Rank: 26
Number of Employees: 15,000+ Full-Time, 500 Part-Time
Headquartered in Boston with employees worldwide, State Street Corporation provides investment management, servicing, research and trading, and financial data analytics. In 2017, State Street increased their paid parental leave offering from four to eight weeks. The company also allows for and facilitates flex-time, which a little more than half of employees take advantage of, and offers emergency child care support.
State Street also offers up to $20,000 reimbursement for fertility-related matters such as surrogacy, and adoption expenses per calendar year. Employees may utilize this benefit a maximum of two times (combined between reimbursements for surrogacy and adoption) during their employment with State Street.
41. Capital One
2017 Rank: 20
Number of Employees: 42,600 Full-time, 1,100 Part-Time
Capital One is a bank and financial services company headquartered in in McLean, Virginia. Capital One offers eight weeks of paid paternity leave to fathers, adoptive parents, and foster parents working full-time at 100 percent pay, as well as up to 18 weeks maternity leave at 100 percent pay. The company also has a flex-time program, which is slightly unusual in financial services.
Capital One also offers backup childcare support in case of emergencies, a surrogacy reimbursement program for prospective parents, and similar support for families growing through adoption.
42. OppenheimerFunds
2017 Rank: 48
Number of Employees: 1,956
Headquartered in New York, New York, throughout its nearly 60-year history OppenheimerFunds has remained an industry pioneer in the field of global asset management. The firm prides itself on the ability to work with clients who have a diverse set of needs, helping them invest their money wisely no matter what their long-term goals are. In 2018 the company extended leave time for the birthing parent to 16 weeks, and eight weeks for the non-birthing parent.
Despite not providing their employees with direct child care or money for it, OppenheimerFunds still has very flexible time off and employee assistance programs, both of which help employees balance family life, vacation, sick time and personal time. For employees who are looking to start a family by adopting, OppenheimerFunds also offers an adoption assistance program.
Through its 10,000 Kids by 2020 program, OppenheimerFunds aims to introduce 10,000 students to math literacy through programming and active employee volunteering.
43. Lexmark International, Inc.
2017 Rank: N/A
Number of Employees: 2,220
Lexmark International, Inc., a global printing manufacturer headquartered in Lexington, Kentucky, helps clients worldwide with imaging services and solutions. A majority of the company's employees work in research, development, and sales at company headquarters. The company offers six weeks of paid parental leave. There are also flex-time and unlimited vacation programs.
Notably, Lexmark provides onsite childcare at headquarters. Employees are also offered back up child care support in care of emergencies.
"Lexmark's unlimited vacation program allows employees to take time off when they need it in a way that supports a healthy and effective work/life balance," Sheri Evans Depp, Lexmark's talent management director, told Fatherly. "This approach to time off is not based on tenure, especially great for people younger in their career, and allows the employee and manager to meet business needs while reinforcing our culture of flexibility."
44. Intel Cooperation
2017 Rank: 30
Number of Employees: 50,682 full-time employees
Intel, the world's second-largest semiconductor chip maker, invented the microprocessors and has been actively innovating ever since. Not content to sit on its techno-laurels, the company recruits top researchers and experts in part by offering competitive perks, including eight weeks of parental leave that can be taken anytime within the first year of a new baby's life. Employees can also take up to 12-weeks of paid parental leave to take care of sick or needy children.
Intel also offers parents a child care subsidy and provides employees with emergency backup child care if needed. Beyond that, they offer lots of support for parents with special needs children. Intel also offers employees creative options for balancing work and family life like compressed work weeks, flextime programs, alternate start times, and telecommuting.
45. 3M
2017 Rank: 28
Number of Employees: 36,364Median Salary: $82,000 according to Payscale.com
3M has their hands in more than a few things. Need sand paper? They got you! Need adhesives? They got that too! Need a flame retardant body suit? They're on top of it. The company, which is headquartered in Minnesota, started offering paid parental leave at the beginning of 2017 and now gives all new parents 10 weeks of fully paid time off — if you want to call it that.
Along with assistance programs for employees who are expecting as well as for those trying to conceive, 3M also offers flexible assistance when it comes to child care and can provide back up childcare support if there is an emergency. Offering an education allowance, 3M is also a great place to work if you're looking to build out your skillset ahead of starting a family. Moreover, 3M extends the benefits to their part time workers as well, so it's perfect for those looking to spend a little more time at home with the family.
46. RSM
2017 Rank: N/A
Full-time Employees: 9,550+
The fifth largest accounting firm in the U.S., RSM employs 8,550 full time and 388 part-time workers, many out of corporate headquarters in Chicago. Last year, the company increased parental leave from three paid weeks to eight paid weeks for all employees. According to the company, every new father eligible to take time off after the birth of a child over the last year took advantage of the offering.
RSM's commitment to dads extends to an awards program for "Working Father of the year" which celebrates employees who are fathers and demonstrate the ability to balance work and caregiving. RSM also reimburses employees $5,000 to assist with adoption expenses and offers a discounted pre-school program to parents through The Learning Experience.
47. Bain & Company
2017 Rank: 33
Number of Employees: 8,000
Bain, a notoriously high pressure and elite Boston-based legal and consulting firm, advises C-level executive on corporate strategy. Sometimes that means making moves at the home office. In 2016, Bain increased paid parental leave to eight weeks for all parents regardless of their full or part time status. Paid leave for the birthing parent was also increased from 12 to 16 weeks at that time. New and expecting parents also have access to mentors through formal, informal and employee resource group mentoring programs.
Notably, Bain has a fantastic flex time policy. Employees can change their daily workday schedule on a periodic or regular basis. Bain also offers remote work and telecommuting arrangements and sometimes facilitates leaves of absence for workers.
48. Booz Allen Hamilton
2017 Rank: N/A
Full-Time Employees: 24,750
This McLean, Virginia-based information technology consulting firm is an influential behemoth — they once headed up the reorganization of the IRS — that employs a small army of engineers, scientists, software developers, technologists and consultants. How do they retain the best and brightest? Family benefits certainly help. Eligible employees can take up to 12 weeks of unpaid in the immediate aftermath of birth and new dads can also use two weeks of leave flexibly in the first year after birth or adoption.. Booz Allen offer an additional 20 days of paid leave for those adopting children and having children through surrogacy, for which the company provides a reimbursement of up to $5,000.
Booz Allen also supports a Parent's Forum that connects working parents in the company to share best practices, resources, ideas, referrals, information and experience. The group helps parent in real life, sponsoring family outings to baseball games and museums, setting up forums to help employees save for college and work with local charities.
49. Dow Jones & Company
2017 Rank: N/A
Full-time employees: 2,819
One of the oldest names in the financial information industry, Dow Jones & Company is a global provider of business information and the publisher of The Wall Street Journal, Barron's and MarketWatch. Owned by News Corp, Dow Jones & Company, Dow Jones offers 20 weeks of paid parental leave to primary caregivers and three weeks of paid leave to secondary caregivers.
Though the paid leave offering is not spectacular for dads (give the "secondary" caveat), Dow Jones makes this list because of its childcare offerings. They also provide an employee assistance program that offers help and advice to new and expecting parents, up to 20 days of backup childcare services a year, membership to Sitter City, and preferred enrollment at Bright Horizons centers. The company's Returnship program, which was launched in 2017, helps those who have been away from a job for two years due to a health or family emergency re-enter the workforce.
50. Vanguard
2017 Rank: 41
Full-time employees: 15,745
Headquartered in Malvern, Pennsylvania, investment management giant Vanguard is the world's largest provider of mutual funds, overseeing over $5 trillion in assets. The majority of Vanguard employees support the company's Retail Investor Group, which serves individual investors and small businesses. Recent launches in the United Kingdom, Mexico, and Germany show the company's international ambition, which fuels its recruitment of high-earning employees. As such, the company offers generous benefits, including, six weeks of paid leave for new fathers and, as of 2016, a wide variety of supports and subsidies for those pursuing adoption, surrogacy, and foster care.
Vanguard's standout benefit? A strong academic assistance program that provides employees furthering their education up to $9,000 a year for tuition and books. It's a way for parents to stay on top of the game in an evolving industry.