The Ultimate Dance Party Playlist, as Picked by a 6-Year-Old Dancing Fool
Of course Queen made the cut, because this little guy has good taste.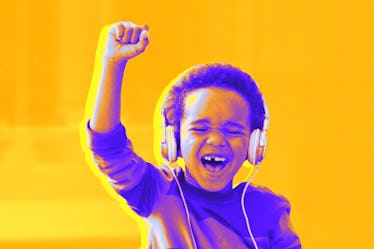 Photo Illustration: Mark Forscher
I've often said that living with my 6-year-old is like living with Iggy Pop. For one thing, they have the same build. For another, they're both frenetic dancers who are usually topless or in their underwear. Living with my mini-Iggy means music is a constant, but his lust for life is most readily apparent during the regular music-video fueled dance parties in our family room. Over the last two years, my little dude has formed quite a playlist, so I wanted to share it. Here are the songs that cause a six-year-old to cut the rug.
Bruno Mars: "Uptown Funk"
The first time I realized this song had landed on my radar, we were in church one Sunday morning. It was during a moment of quiet prayer when my kid, lost in his own world, started signing loudly what sounded like, "Up! Down! Fuck You Up! Up Down Fuck You Up!" It took me a beat before I realized the guy, having trouble with his n's, was getting funky. Not fucky. I gave an embarrassed shrug to my neighbors. Thankfully our priest didn't hear him.
Janelle Monae: "Tightrope"
The kid is down with this video mostly because of the chorus, wherein he can get high and then get low. He is also determined to learn how exactly to do the tightrope. At this point, mostly it's standing on one leg.
Pharrell Williams: "Happy"
There is one major draw to "Happy", aside from its outrageously upbeat message, tempo, and egalitarian dancing, and that draw is Minions. They only show up a couple of times in the video, but man, when they do, the kid is stoked. Every. Damn. Time.
Bastille: "Pompeii"
The thing about the Pompeii video is that I don't know how the kid is not freaked out by it. He does not like scary things and this video is full of people with jet black eyes being creepy. Hell, it freaks me out. But there's something about the opening hook with its nonsense chant, followed by the driving drum that the boy finds irresistible.
Far East Movement featuring Bieber: "Live My Life"
This is the only thing I've ever heard from this group and I do not believe Bieber is actually in the video, but the big-haired dude from LMFAO is on a bus through most of it. The boy's grandma surprised me once when, mid-dance party, she exclaimed "Hey, it's Redfoo!" Nothing about this makes any sense.
Taylor Swift: "Shake It Off"
My boy goes nuts dancing through most of this video, but eventually he slows down and just kinda stares, mouth agape, at Taylor Swift. Which I totally understand. It's worse with "Bad Blood" because it's kinda too slow to dance to.
Queen: "We Will Rock You"
Is this one particularly danceable? Not really. But you can stand and stomp and jerk around in one place. The kid loves to sing along with this one, although it should be noted he believes the opening line is "Semi-eye-oh, when you play your banjo, you got blood on your face … etc."
This article was originally published on