In Defunding Planned Parenthood, Trump Attacks Both Abortion Providers and Moms
The White House is moving to strip reproductive health care clinics that largely serve mothers of Title X funding.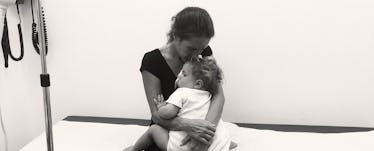 On Friday of last week, the Trump administration announced that it would strip funding from medical organizations that receive money through Title X and provide patients abortion referrals. This move, long predicted, redirects funding to religiously affiliated anti-abortion medical groups and has profound and dangerous implications for women, specifically mothers. Why mothers? Because mothers constitute 59 percent of the abortion patient population. Despite popular myths about irresponsible teens, the majority of abortions are had by parents looking after the interests of their families. And 75 percent of those women have incomes below 200 percent of the federal poverty level.
Under the new rule, doctors offices and clinics that receive funding from Title X would be allowed to talk to their patients about abortion as a routine medical care option, but wouldn't be able to tell their patients where they could get an abortion. They would also no longer be required to inform their patients that abortion is a possible health care option. This opens the doors for religious organizations that don't advice on abortion to also receive funding despite not fully appraising patients of their choices.
Twenty-six percent of women who receive abortions already have one kid; 33 percent have two or more. The majority of women who have obtained abortions have graduated high school. Forty percent of women who get abortions do so because they are not financially prepared to raise children (or more children.) Seventy-five percent of women who receive abortions have incomes less than 300 percent of the poverty level — which suggests that many women who seek abortions do so through Title X. For most women, receiving an abortion is a larger decision made when considering the needs of their already existing family. It's a family planning decision.
Being able to family plan is associated with better socioeconomic and physical health for the whole family. Title X is supposed to help improve the socioeconomic and physical health of women and their families. Those who are turned away from abortion services are four times as likely to have their incomes fall below the federal poverty level. Childhood poverty has detrimental effects on high school graduation rates, likelihood to attend college, overall physical and mental health, and the overall wealth of kids as they grow older.
Title X is a federal family planning initiative premised on the idea that family planning is good for family health that provides about $286 million in funding to programs that provide basic reproductive health care services like cancer screenings, STD treatment, and birth control access. Title X helps provides funding to clinics that serve four million Americans a year at about 4,000 clinics across the country, 40 percent of which are operated by Planned Parenthood, which just receives 60 million of that Title X funding per year. If a woman enters a Planned Parenthood or a similar clinic and says they are eligible for Title X-funded services, they provide the last four weeks of pay stubs to the health care clinic, which then determines, on a sliding scale, what the patient owes.
This is not the first time that a conservative president has attempted to divert funding from health programs that provide, among other services, abortion care to people who seek it. The Reagan administration enacted a gag rule against providers from providing abortions to those who want them but also from even discussing abortion as a health care option to women. That rule was upheld for about three years, and under the Bush administration, was not enacted. When Bill Clinton became president he got rid of the controversial rule.
The law is likely to be challenged in courts and may even be challenged all the way up to the Supreme Court, where it was upheld after Reagan passed it.
In the meantime, President Trump is making it harder for women to get both general healthcare — poor women, four million of them, receive routine care from birth control to breast cancer screenings to abortion at Planned Parenthood sites. Experts say, if Planned Parenthood would be defunded, which represents some 40 percent of Title-X funded clinics, the 40 percent unaffected by the cuts could have to take on 1.5 million Planned Parenthood patients. That represents a 70 percent increase in patients on less than half of clinics that are partially funded through Title X. And, again, the bulk of the suffering caused will be inflicted on mothers.
Abortion is rarely a selfish decision. It is often a family decision. And it is a decision President Trump is maneuvering to make more difficult despite longstanding research proving that obstacles to abortion don't lower abortion rates — only the rates of successful operations. The assault on medical care is also a big government assault on poor families. Apparently President Trump thinks he's in a better position to do their family planning for them.
This article was originally published on