The Trump Budget Will Gut The Public Library
The Trump 2021 budget plan would cut federal funding for every library across the country.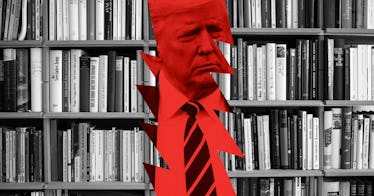 In late January, White House released the Trump budget proposal for the fiscal year of 2021. In it, for the fourth year in a row, was a proposal to completely eliminate the Institute of Museum and Library Services funding (IMLS) — and with it, functionally all federal funding for libraries and museums. The budget, which calls to boost NASA funding, VA funding, Defense spending, and slash Medicare, medicaid, the State Department, the EPA, and the Department of Education establishes a clear set of priorities. Federal funding for our nation's libraries does not, apparently, top the list.
The Trump administration requested to shave $23,000,000 from the budget, functionally eliminating the agency that provides federal funding for libraries. That he did it isn't a surprise.
"This is the fourth year in a row the administration has called on the elimination of the program," says Kevin Maher, the Deputy Director of Public Policy and Advocacy at the American Library Association. "It's disappointing that [they want to cut] a program that benefits constituents library patrons, citizens all across the United States and in every district and that they don't place a higher value on that. We're largely disappointed."
So, what does this mean for our libraries? Is Trump trying to close them? And will he actually succeed?
"Ninety percent of library funding is dependent on the will of local voters and local politicians," says Patrick Sweeney, co-author of Winning Elections and Influencing Politicians for Library Funding, and the current Political Director of EveryLibrary, a Political Action Committee for Libraries. "I think there are a lot of narratives that conservatives hate education. I hear that a lot, but I don't think that's fundamentally the case. When we look at the voter data for who votes for libraries, Republicans and Democrats and progressives vote to support libraries at almost the exact same rate."
Although most funding for libraries is local, a federal cut would slash what libraries are capable of providing, per Sweeney. The IMLS provides grants for innovative programming and one-time costs that local tax revenue can't pay for. "If all of the computers go out, or the roof flies off from a tornado, local tax money doesn't pay for that," he says.
Aside from disasters, there are plenty of practical services federal funding helps libraries provide to local citizens, like the libraries interlibrary loan system.
"You can go into any library right now and get a book from just about any other library in the country," says Sweeney. Should the cuts pass, the ability to engage in interlibrary loans will be fundamentally cut. IMLS also allows libraries to make bulk orders of books. Instead of every library, for example, paying for their own subscription to a big search database or texts, through the IMLS, libraries can pool resources, combining subscriptions at the state level and provide subscriptions to every library, all at a discounted rate. This service, which would be cut, saves taxpayers millions and millions of dollars. But cutting it would actually cost the taxpayer more. The cuts would slash talking books and braille libraries for the blind — a program that nearly every state uses to provide services to library patrons who are blind. In short, the collaboration between libraries to reduce costs for databases, or provide programming to patrons, or to provide books between county lines, would end.
"A lot of people say we don't need libraries anymore, because we have the Internet. All the books are on the internet now," says Sweeney. "But what people don't understand is that libraries aren't about books. They're about the information in the books."
It's more about information. Nineteen million Americans lack access to broadband service at threshold speeds; in rural areas, nearly one-fourth of the population, or a total of 14.5 million citizens, lack access to it. The library offers access people need. For rural farmers who don't have access, the local library is the place they go to when they need to buy seed or manuals to repair their tractors or farming equipment. That information and those materials are not accessible from home.
There are, of course, and perhaps most importantly, a lot of family programs at the library. Reading hours. Literacy programs. For parents who can't afford to stock a library for their children, there's a host of books that will help their kids become literate early and faster. But libraries are constantly evolving places of learning for the public. IMLS funding allows people to get their high school diploma from their library. There's STEM programming and maker workshops. Many libraries have 3D printers, too.
But perhaps what's most important is just how many people libraries serve: according to Sweeney, more people go to the library every single year than the movie theatre, NFL, NHL, NASCAR, and NBA games combined. Over the past three years, despite Trump's yearly budgetary decisions to cut the IMLS, the program has walked out of budget negotiations with more funding, rather than less. Last year, Trump increased the IMLS budget by $10 million, including an increase of funding to the Library Services and Technology Act (LSTA) by $6.2 million, the largest funding increase for LSTA in over a decade.
The problem here is not whether it will happen. It is more likely than not that the IMLS and the LSTA will unaffected by the political posturing. But it does show, ultimately, the priorities of the Trump administration. If looked at like a moral document of sorts, it's clear what Trump doesn't care about: the funding of essential services that help rural citizens have access to Internet, working class parents have access to books for their kids, and community members have access to educational programming.
"I think this administration is simply interested in the government only funding the absolute defense and security and that's really it. The National Endowment of the Arts was also eliminated. Public television. All of the things that make life worth living. Arts, humanities, creativity," says Sweeney. "So, then the question becomes: what are we defending?"