Thomas Markle is a Doofus but He Should Still Attend the Royal Wedding
If your kid is marrying into a family with a deep sense of protocol and propriety, you're probably going to mess up, but you should still go to the wedding.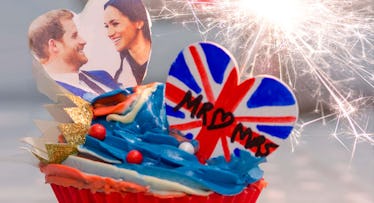 It's been revealed that Meghan Markle's dad Thomas Markle was paid by a paparazzi to stage photos of himself preparing for his daughter's royal wedding. Now the man who would be seated next to the king has been publicly outed and has decided to skip his daughter's wedding because he doesn't want to embarrass anyone (else). This is an understandable but awful decision. Thomas was always going to embarrass the House of Windsor and his daughter. That's what dads do. It's selfish to not give them all the pleasure of squinting down their noses at him. When you're a dad, sometimes that's the gig.
Weddings of all stripes are pretty much minefields of embarrassment. The occasion is deeply fraught with tension: families members meet for the first time, booze flows freely, the chicken dance happens, people attempt and fail to follow protocol. Anyone who has ever seen an episode of America's Funniest Videos understands this to be a reality. It's just, with the Royal Family the stakes are quite a bit higher — or they are perceived to be anyway. And no one is going to do the chicken dance.
Navigating royal protocol was always a losing proposition for Mr. Markle. The British tabloids were always bound to eviscerate him via alliterative headlines — MARKLE MANGLES MEETING WITH MUM! — because that's what they do. He could be George Clooney (he is emphatically not) and it would make little difference.
If my son were marrying royalty, I too would have messed it up by now. There is no doubt I would have flubbed a handshake, told a terrible joke at the bride's expense, or worn a wholly inappropriate Harry Potter tie while enthusing about "going to Hogwarts." And this would have been done during an attempt to stay on script. But even after high-fiving the queen or giving her a noogie, I would go to the damn wedding.
By opting out of the ceremony, Mr. Markle isn't saving face. He's making things much worse. Because, the fact is, you go to your kid's wedding. If you're not so terrible that they have given you an invite and asked you to be involved, you go. There is no grey area. Even if you're going to see the ex-wife you loathe. Even if you wrote a drunk Facebook post suggesting your kid could have done better. You put on a brave, conciliatory face, and you go.
To be a parent is to be — to a certain degree at least — shameless. Or, barring that, it's to make peace with one's shame in order to provide meaningful support. The idea isn't to avoid mistakes, but to avoid letting those mistakes compromise moments of joy. Committing tabloid harikari is not helpful.
Pops Markle should have felt lucky that controversy occurred prior to the wedding. In some ways, it takes the pressure off. He would have entered the proceedings under a cloud, for sure, but at least his crime was wanting to look like he gave a crap about his daughter's marriage. That is basically the most endearing scandal any father of royalty-to-be could ask for.
But skipping the Royal wedding ruins any chance Thomas Markle has to repair his public reputation, which doesn't matter, and his private reputation, which does. It a decision that is objectively wrong because it is a decision to prioritize oneself over a child. Mr. Markle needs to understand that there's nothing wrong with being a fool — the royal bloodline is full of those — but there is something wrong with being self-protective or careless. That's not forgivable.
It's not his presence that will cause his daughter's day to feel less special, but his very conspicuous absence. And if she thinks she won't miss him, she's probably wrong.
This article was originally published on