Our Date Night Surprise: What Happened When We Brought the Kids
My son, at only 6 years old, was so well-behaved that the restaurant clapped as we left.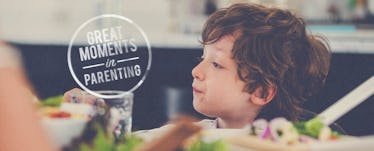 In this edition of Great Moments of Parenting, Joe, a 34-year-old dad from Peoria, Arizona, talks about the anniversary dinner that proved to him that his lessons of politeness were rubbing off on his 6-year-old son.
I believe in leading by example. So, my son always watches me. I always say "please" and "thank you." I always hold the door for people. I always go out of my way just to set a good example for him, whether it's picking up trash in the parking lot or whatever it might be. There are times that I have to remind him, when he doesn't say please, like, "Eli, remember next time to say please."
We try to teach our kids to give respect to everybody, no matter the circumstances. Which is what makes this story so good. My wife and I were celebrating our anniversary and so we wanted to go to a nice steakhouse. We always like to take our kids everywhere we go. We include them in our date nights. So we went to the steakhouse.
And then when the waiter came up to ask what we wanted to drink, he said, "I'd like water, please." The waiter went and got him water and when he set the drink down our son said, "Thank you." Very politely. It was just one of those moments where it just happened without us really enforcing it. He said please and thank you on his own. He said it on his own!
Welcome to Great Moments in Parenting, a series in which fathers explain a parenting hurdle they faced and the unique way they overcame it.
I wasn't really nervous about bringing our kids to our anniversary dinner, at least not our oldest. I was actually more nervous about the 18-month-old. Our 6-year-old handles himself pretty well on a regular basis. But you know, the 18-month-old can cry, get needy, get through his temper tantrum. But for the most part we are pretty confident with our kids and we've always taken them out places to teach them how to behave.
And honestly, I would say he's really polite in general. I see that behavior from him almost on the day-to-day. But this moment really stuck out to me. What made me really proud is that he was out of his element. We were in a really nice, sit-down restaurant. You don't normally see a lot of kids at places like that. Both of our kids were on their best behavior, when it really, really mattered. The average date night isn't at a fancy steakhouse.
I think it's really important for my sons to say please, thank you, and you're welcome to anybody. It doesn't matter what their job is or who they are. I think it's more of a respect factor for people. That particular moment in the steakhouse, it was out of his element, but it was just this nice, small, quiet moment at dinner. It made me reflect on life a little bit, that we're heading in the right direction with how we're raising our kids. It made me feel like, "Oh, I'm doing pretty good."
The rest of the meal was great, both kids were on their best behavior. We were there for a good hour and a half, and we got to enjoy our time. And when we left, everyone at the surrounding tables complimented us on our family and told us how well-behaved our children were acting. That was definitely awesome.
It made us feel so great. We smiled going out of the restaurant — I mean, not only did we have a great dinner celebrating our anniversary, but we got complimented on top of that. It just made us feel even better about what we're doing, and that we're raising some good young men.
Politeness is one of the most important things. You don't know what kind of day people might be having — just being nice to someone can change their whole day or life. We teach that to our sons. We say, "You don't know what's going on in their life, so you just have to be nice to everybody." It's good to see him internalize it.
This article was originally published on