The Financial Costs Of Raising A Child With Special Needs
Don't be scared. Be prepared.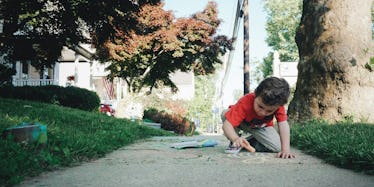 Flickr / Sal
If prenatal testing confirms a chromosomal abnormality or the presence of any other birth defects, you may have already started making preparations for life with a disabled child. You might be making changes changes to your home. Or you may have started accessing a variety of intervention services that'll help you realize a beautiful life for your beautiful kid. But what you may not have looked at is the long-term financial cost of having this new person in your life. Here are a few things you might want to start saving up for.
Financial Team
Kids affected by disabilities have unique and complex financial needs as they grow. You may already have a long term financial adviser, but you might want to ask them if they are familiar with the particularities a planning for individuals with special needs.
For instance, there are specific rules for accessing social security income and transferring wealth. You'll want a team that understands the rules (and the loop-holes, quite frankly). That expertise is not free. Make sure you're clear on exactly how your advisor will be compensated. You can track down more information at the National Association of Personal Financial Advisors, who hopefully won't ask what all those discrete charges are on your credit card bill. That's getting too personal.
Hospital Stays
Depending on the severity of the birth defect or disorder you'll be managing with your kid, you may face a bit more time in the hospital. The longest stays tend to be related to conditions that require surgical intervention. These can often require hospital stays in excess of a month.
Make sure you review your insurance to see what will be covered and what you'll be expected to pay out of pocket. And make sure you keep an eye on when your kid is born. It's possible that you could wind up paying your premium twice if the care bridges insurance years. Which clearly indicates you need to get into the insurance business. It's a helluva racket.
Life-Long Costs
According to the U.S. Department of Agriculture, the cost of raising your typical kid to the age of 18 is around $240,000. That's a lot of scratch. But that figure can quadruple for a kid with special needs.
Most of that increase is due to the need to access special medical services on top of the expected expenditures of food, clothing and entertainment. The most recent study to tackle these costs found that people affected by disabilities will spend around $10,000 annually in out-of pocket costs just for medical services.
Of course, every disability presents it's own special circumstances. Still, here are some annual costs you'll want to plan for now based on those who're in the thick of it.
Occupational Therapy: $5,000 to $10,000
Behavioral Therapy: $10,000
Life Skills Therapy: $4,000
Private Schooling: Up to $20,000
Private Caregiver: $9,000
Public Assistance For Life-Long Costs
Before you start hyperventilating over what you just read, understand that there is a patchwork of public assistance out there for individuals raising a child affected by a disability. This assistance comes from both state and federal entities. However, as with any public program, the hurdle is in knowing how to navigate the bureaucracy in order to access benefits.
The first place you'll want to start is with the Social Security Administration. It provides 2 different types of disability coverage: Supplemental Security Income (SSI) and Social Security Disability Income (SSDI). The former is primarily for low-income families, while the latter is sometimes available to disabled people after they turn 22 years old. Because these are federal programs, there are all sorts of hoops to jump through and exceptions to understand, but this explainer provides a good starting point.
Then there are state programs. As you might imagine, these are often as complicated as federal programs, with the added wrinkle of being specific to your state. Ironically, the federal government has a site devoted to helping you identify what your state provides for parents of disabled kids.
Beyond federal and state benefits, there are often national and community-based non-profits that will assist families of children affected by disabilities. Tracking down a group of a parents who are in similar circumstances should allow you to get oriented. Most hospitals will hook you up with counselors prior to your kid's birth who can help introduce you to these communities. However there are online resources that can also help.
Missed Work
Even with private help, you should probably expect that you'll either have to miss work to help care-giving or even change jobs to better care for your family. One study suggested that many families of children with special needs might even relocate to another state in order to access better care for their kid. The costs for work changes and missed days? Around $5,000.
Yes, this is all a lot to take in. But consider this: Even if your child were typical in all ways, you'd likely to do whatever it takes to make sure they were successful and happy. Raising a kid with special needs just shifts the definition of success and happiness.
With access to the right advisors and some good forethought, you can rise to the challenge and enjoy the unique journey of raising a truly incredible kid.