How to Talk to Aging Parents About Them Moving In With You
Are they planning on moving in? Are you sure? These are the discussions that should be had.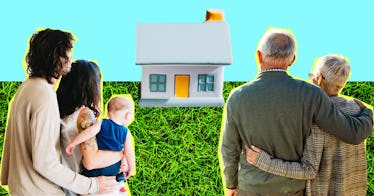 The costs of coronavirus won't be fully known for months, if not years. Loss of income is already clear. People over 55 years old have been especially hit. Their unemployment rate was 13.6 percent in April, a 10 percent jump from March. While the conversations might have likely taken place regardless, their situation increases the chance that grandparents will have to move in with their adult children.
This is an emotional realization for the whole family. Having grandma or grandpa move in isn't a simple transition for all parties. It involves issues of space, money, privacy, freedom, and ego. There's resentment with, "I didn't ask for this," and all opinions would be living under the same roof. And parents who want to start the discussion are in the middle, their folks on one side; their spouses on the other.
"It's a tricky position, especially if there's tension and conflict," says Megan Dolbin-MacNab, associate professor of human development and family science at Virginia Tech University.
It certainly is. Before you start feeling disloyal to anyone, remember that this isn't an inevitable event. It's just a possibility, one that requires assessing and playing the scenarios. Before you start reconfiguring the house, it starts with a conversation about having your parents move in. Well, two actually.
Talking to Your Spouse About Having Aging Parents Move In
When deciding whether or not grandparents should move into your home, the first conversation should be at home, with your partner. This needs mutual buy-in, regardless of how dire the situation might seem.
"It's got to be a choice. There is a choice," says Roberta Satow, psychoanalyst, professor emeritus at Brooklyn College and the City University of New York, and author of Doing the Right Thing: Taking Care of Your Elderly Parents Even if They Didn't Take Care of You.
When you start exploring the alternatives, you'll see where moving in ranks and that can help make a decision. As you proceed, the main thing is to ask your spouse questions and listen — truly listen — to the answers, keeping in mind the essential fact that you're making a big request, Satow says. Ask two fundamental questions. "How do you think this would work?" and "What would we expect from them?" This will get you thinking about everything from space allocations to sharing of bills to things you didn't even consider.
You can't nail down every detail, but you'll get an outline and more comfort with the idea. You also want to ask your spouse, "What are your concerns?" Listen again without quickly reacting. You want your partner to be able to express reservations, even anger, and do so early in the process, because things won't magically work out without intention.
"If you don't talk about stuff, it festers and then it explodes," Dolbin-MacNab says.
It's important to also ask: "What can we do for us if this happens?" Kids already changed your relationship. Grandparents moving in will do it again, Satow says. You might not have any couple time now, but giving the two of you focus amid this discussion will again help with the consideration.
But don't focus solely on concerns, by also examining, "What's the upside?" There's the potential for help with chores and childcare, maybe you two get a night out regularly, and there's the chance for your folks and kids to deepen their relationship. Considering the positives gives a fuller picture.
Talking to Aging Parents About Moving Into Your Home
This issue may have never been broached before with your parents. If so, it's not an easy topic to raise. If there's the slightest opening, some show of worry, use it to start a conversation when you're not all rushed and the kids are engaged with something else. Acknowledge the awkwardness, Dolbin-MacNab says, and approach it, like with your spouse, as not a done deal. This is not the time for foot-stamping declarations of "You're moving in."
Ask your parents, "What are you feeling and what do you want?" It's their decision as well. As the conversation moves forward, you want to be clear with concerns and expectations, and that honesty might be a new dynamic for all of you, and just setting that standard might be the biggest component, Dolbin-MacNab says.
Ask them, "What do you expect?" as it relates to childcare, bills, household chores and time together. Let them give a sense of how it would look, then give them the picture of your day and your approach to parenting – awake by 6 a.m., no snacks after 5 p.m., we try not to compare the kids to others – and ask, "Do you think you could fit into that?"
Remember: If you're asking them for something, you need to offer them room to make it their own, and that requires prioritizing what really matters and not caring so much about the rest, Dolbin-MacNab says.
But there's no need to address every potential conflict. They'll happen and are best handled in the moment. You've set the overall framework and the precedent of talking. Let them know that will continue where everyone can share how it's working and what needs addressing, Dolbin-MacNab says.
And ask them, "What do you see as the benefits?" It's a hard time for them. This may be a loss of everything from social networks to furniture and they may feel embarrassed, but getting them to consider the upsides might reduce the sadness and bring in the idea that something different is also something new.
Even when it's just a potential, it's easy for you and your spouse to see it as a burden and undue stress. But it's not what anyone drew up. As much as it's possible, try to approach it like a team by finding consensus, looking for solutions, and where.
As Dolbin-MacNab says, "We're all working toward the same goal and we could make our lives easier,"
This article was originally published on