How to Talk About Trying New Things in Bed
A few pointers to help push the conversation.
by Carrie Weisman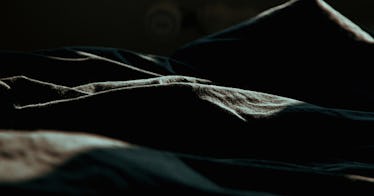 Everyone wants new things to try in bed. It's especially so when you're in a long-term relationship: Sex can sometimes start to feel like having the same meal over and over again. And while the service and menu are **kisses fingers like a chef**, sometimes you want to sample something from a different type of menu. But asking for new things to try in bed isn't always that simple. While variety is the spice of life — and great bedrooms — humans are creatures of habit, after all, and when you have a sexual routine, it can be difficult to switch things up. Still, it's a good idea to talk about trying new things in bed. You just need to do so tactfully. So, how do you approach the conversation? Listed below are six ways to discuss trying new things in bed with your partner without sending the wrong message.
READ MORE: The Fatherly Guide to Sex After Kids
Do Your Homework
Please, don't get ahead of yourself. Maybe getting handcuffed to the bedpost looks cool in the movies, but it could be a real nightmare when things actually come to pass. If you find yourself drawn toward any kind of R-rated activity, try doing a little research. Take the time to figure out if what you're thinking about is strictly fantasy, or if it's something you actually want to bring into the bedroom. And while you're at it, think about how your spouse will react. If you feel there's any potential for weirdness, then try catering your desires toward whoever it is they become in the bedroom.
Change Up Your Viewing
If those who can't do, teach, then those who can't say, show. Whatever it is you're into, there is porn of it. If you really can't find the words you need to explain your interest, then queue up some X-rated material to help deliver the message. Besides, leaning on a couple of pros for help doesn't sound like a bad move, especially when you're trying to describe a move.
See What Pop Culture Can (Already) Do For You
So you want to give your lady a pat on the rump but you don't know how to tell her. Good news. Hollywood will tell her for you. Find a movie that fits your mind frame and queue it up. Rent Secretary if the kinky stuff in that movie is what you're after. And while the acting in 50 Shades of Grey is more wooden than a park bench, it puts some interesting sexual options on the screen. Streaming media is your friend. Queue up something that starts a conversation and have fun with it.
Go Sex Shopping
Seeing is believing. But it's also arousing. If you and your partner are busy making a living and raising kids, then you probably don't spend much time surfing the web for the latest in intimacy innovations. If you're feeling expansive, then take a trip to the nearest sex shop. Fish around for accessories related to whatever it is you've been fantasizing about. Present it to your partner. And have fun feeling out new options. You never know what that IRL exposure will unearth.
Talk to a Professional
Years ago, we were on our own when it came to sexual adventuring. But these days, there are professionals to help us navigate through. Sex coaches are now a thing. So are masturbation coaches. And yeah, sex-minded hypnotists are out there, too. If you're not sure how to communicate an interest in something new, try contracting someone to help broker the conversation. It's an actual option.