Two-Thirds of Parents Believe Their Kid is Performing Above Average Academically
A new survey found that 90 percent of parents believe their child is performing average or above average academically.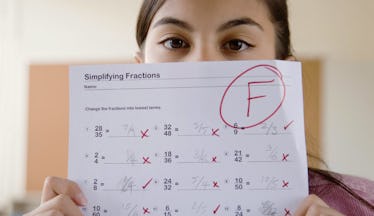 Parents have extremely unrealistic expectations about their children's academic achievements, according to a national survey of K-8 parents, released this week by Learning Heroes in collaboration with Univision. The survey found that "nine in 10 parents think their children are achieving at or above grade level" and that 66 percent believe their kid is "above average". This is, of course, mathematically impossible—by definition, 90 percent of students cannot be average or above average. Especially if their parents still don't understand how averages and percentages work.
It's a misconception that, according to the survey, transcends class, race, and language. Barely eight percent of white parents and eight African American parents rated their children's academic achievements "below average", and that figure only rose slightly among Hispanic parents, 11 percent of whom rated their children academically below average. It seems we all have unrealistic expectations—or at least unrealistic ideas about what the average student looks like.
There is hope, however, for (slightly delusional) parents. The survey showed that parents built more realistic expectations after they were presented with national academic data. For instance, once they heard that roughly 66 percent of eighth graders perform below grade-level in reading and math, only 51 percent of parents still felt it was "very unlikely" that their child was performing below grade level. Twenty-six percent of parents adjusted their expectations, and admitted it was "very likely" or "somewhat likely" that their kid was below average academically.
But perhaps this survey highlights one of the problems with evaluating the "average" student based on his or her general performance in school. Kids don't study "school"—they study a variety of subjects, and most kids struggle with some while thriving with others. That's why many experts now believe that "average" student doesn't exist. This might explain why so many parents believe their child is above average. Most kids, maybe even 90 percent, are average or above average at something.
This article was originally published on