This Free App Lets You Group-Watch Netflix From Different Locations
Social distancing doesn't have to disrupt watching shows together. Kast, a free app, lets up to 25 people view content simultaneously.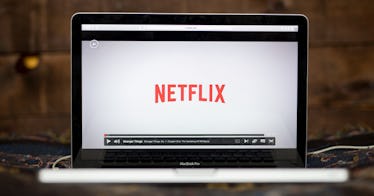 As more and more school cancellations, city lockdowns, travel restrictions, social distancing, and other measures are enacted to prevent the spread of coronavirus, families need to find ways to entertain kids and connect with friends and relatives. A useful option: download Kast. A free Google Chrome screen-sharing extension, it enables groups of people to watch or stream content together. This means school friends, family, neighbors — whomever — can watch Netflix, Hulu, and other platforms together with your kids from afar. It also means that grandma and grandpa can pseudo babysit for a brief spell.
Kast is a free app that allows up to 20 people to gather in a group and speak on audio and video and up to 100 spectators to do the same. It works with Netflix, Hulu, YouTube, video game streaming like Twitch, and pretty much every other streaming app. Even better, those watching can text chat while they watch, meaning grandma and grandpa can send messages to — and receive them from — the kids while Elsa does her magical thing in Frozen 2.
Once Kast is downloaded, users can create 'parties' of people — say, grandma and grandpa — that always exist and join the party. Once the party has begun, the person who owns the party gets to decide to share their screen and stream whatever they want — whether it's on the internet or not — and begin to watch something together. A chat on the right side of the screen also allows people to comment on what they're watching without, you know, being noisy or loud. But families can also just speak on webcam or play a low-key game together by screen-sharing.
Kast has probably never been more relevant — or necessary — than it is right now. And the beauty, of course, of allowing kids to use it with grandma or grandpa is not just that kids get to socialize with their grandparents or that grandparents get to talk to their grandkids without being in the same room as them, but also because Grandma and Grandpa can sort of keep an eye on what the kiddos are doing.
While too much screen time will certainly become an issue with parents as everyone figures out this new normal, Kast is a smart way to deal with the issue of social distancing. It also means that when downtime presents itself (is that a thing anymore?) you can convene virtually with friends to group-watch and feel together for a little while.
This article was originally published on