STEM School Shooting Shows Kids Becoming Cannon Fodder
Nate Holley, a 12-year-old shooting survivor told CNN he wasn't going down without a fight. Who's fighting for him?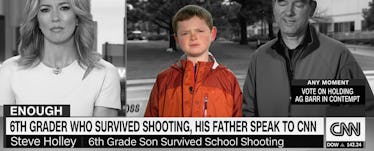 CNN
On May 7, gunfire erupted at STEM School Highlands Ranch in a suburb of Denver not far from Columbine. Two shooters opened fire, injuring eight students, and killing 18-year-old Fredrick Castillo, a senior days away from graduating who joined three other students in an attempt to fight one of the shooters. They body-slammed the shooter against a wall and Fredrick died in the process. One of his friends who wrestled the gun away from the gunman they apprehended, Brendan Bialy, said: "Kendrick went out as a hero. He was a foot away from the shooter and instead of running the opposite direction he ran toward it."
Fredrick did this despite the fact that his father had told him, in previous conversations, to 'not to be a hero' when they discussed school shootings and gun violence. Fredrick responded to his dad: "You raised me this way. You raised me to be a good person. That's what I'm doing."
Nate Holley must have been raised to be a good kid, too. The 12-year-old sixth grader told CNN reporter Brooke Baldwin that he grabbed his metal baseball bat when gunshots shattered a window near him."I had my hand on a metal baseball bat just in case," Nate said. "'Cause I was gonna go down fighting if I was gonna go down." Another student at the school, Joshua Jones, was shot twice while trying to disarm one of the suspects and survived. Several students pointed to he and others as the reason they are still alive.
Just last week, Riley Howell, a 21-year-old student at UNC Charlotte, was shot three times when he ran to tackle a gunman who opened fire on his classroom. He brought the shooter down in the process, saving lives. His father, a trauma nurse, said that based on his son's body and a burn on his jawbone, near his ear, his son likely died from a point-blank shot.
Fredrick, Riley, and Nate and the many others are — well, were children in two cases — part of a new warrior class of American children. These warriors rise to the occasion when their schoolmates are being or about to be slaughtered by yet another gunman. They have to do this because no one else will help them. Feckless politicians, the morally bankrupt (and almost actually bankrupt) NRA, and their parents, who allow for the status quo, have put them on the front lines of what is a firefight conducted in slow motion over years.
Whether they are specifically taught to or not, these kids internalize the idea that it's their responsibility to use their bodies to stop carnage that kills about 100 Americans a day. After all, the school shooting mantra is "run, hide, and fight." And the kids listen to that. Voters have made it their responsibility by refusing to hold really anyone to account for nonsensical gun legislation. The STEM shooting marked the 15th school shooting this year. American schools are now averaging about five school shootings a month.
There will be more. Nate may have another chance to fight. And more kids will make the ultimate sacrifice for their friends. More kids will come to understand that they have been tasked with the responsibilities of a warrior. More kids will come to understand that they have been made expendable for the sake of misbegotten ideas about what freedom constitutes.
It's easy to conclude that Riley and Fredrick stood up to killers. And that's true. But make no mistake, they also stood up to the gun lobby, present in the form of assault weapons, because no one else was willing to do so — it was too politically inconvenient or too difficult. Young kids, drafted by the fellow students' worse impulses, have become cannon fodder. And don't think they don't know it. They're reaching for bats to protect themselves because we demanded nothing short of violence.
This article was originally published on