The 50 Best Places to Work For New Dads 2018: Spotify
Our list of 50 Best Places to Work For New Dads in 2018 recognizes companies with exceptional paternity leave and benefits programs.
by Fatherly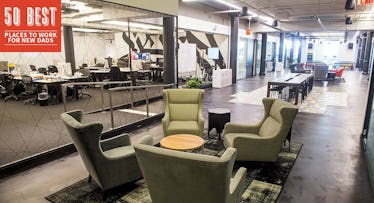 Spotify
Fatherly's annual "50 Best Places to Work for New Dads" ranking is a celebration of corporations committed to helping men manage their dual roles as providers and caregivers. Though only one company can be ranked number one, every company featured has provided real support for working parents with exceptional and thoughtful offerings.
Spotify
Rank: 3
2017 Rank: 4Number of Employees: 3,000
The Swedish music streaming platform that revolutionized the music industry (or "disrupted" it if you don't mind that verb) had a monster 2017, increasing listenership across most of its categories — notably hip-hop, which shot up over 70 percent. Though the company has prioritized reach over grasp, embracing a model that has yet to see it turn a profit, its treatment of employees is famously humane. Spotify adopted a 6-month parental leave policy back in 2015, putting it in the vanguard of socially responsible New York City tech companies and but still well off average benefits in Sweden, where parents are entitled to 480 days of paid leave after the birth of a child.
Though Spotify does not offer onsite child care, it does offer a child care subsidy and backup support for parents in case of emergency. It also offers aid for parents trying to both conceive and adopt. Given its proactive stance on issues related to work/life balance, it seems likely that Spotify will remain near the top of this list for years to come.
Fatherly's 2018 rankings are based on a scoring metric inclusive of data related to company policies on the following issues: paid parent leave, ramp-back time, flextime, onsite childcare, childcare subsidies, backup childcare, number of sick days, support groups, fertility aid, adoption aid, student loan assistance, education funding, bereavement leave, elder care planning. Length of paid leave, onsite childcare, and ramp-back time were the most heavily weighted ranking factors.