South Dakota Demands Gay Fathers Finance Adoption Prejudice
My husband and I are already parents to our 3-year-old son. Why can't he have a sibling?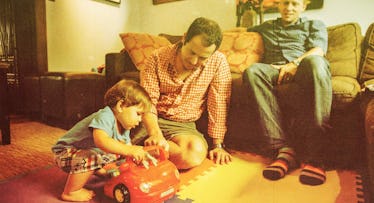 Billy Mawhiney and his husband, Kyle Margheim, have been together for 11 years. They got married six years ago in Iowa, just a year before the Supreme Court mandated that all states recognize gay marriage. In 2013, Billy and Kyle, who live in South Dakota decided to adopt a child. They applied through the state to become foster-to-adopt parents. They did this separately, as the state did not recognize their marriage. In 2015, a seven-month-old baby boy named Carter moved into their home. They adopted him two years later.
Recently, Billy and Kyle have started having more conversations — albeit tentative ones — about adopting another child. But they're hesitant to start the adoption process in case the path forward becomes impossible, which is not unlikely due to a new South Dakota law allowing state-funded, private adoption agencies to turn away gay couples. That law, SB 149, may result in a situation in which Billy and Kyle's tax dollars are supporting agencies that discriminate against them.
Here, Billy talks about his life in South Dakota and what it means to live in a state that doesn't want you to be a father.
We decided, back in 2013, that we were going to look at having a child. We looked at our options and decided that doing foster to adopt, was going to be the best case for us. Surrogacy is fiscally inhibitive. It's a pricey thing and it's a big risk. Plus, you look at these lists of kids who are in need of homes for fostering and adoption, that really changes your mind. We were able to be a supportive family for a child that's already in need.
We did the coursework through the state to become licensed foster and adoptive parents. And then, on July 9th, 2015, we got our first placement. We had a seven-month-old baby boy. We have had Carter since that day. We were his only placement. We officially adopted him on May 23rd, 2017.
We started the adoption process not knowing if we could adopt together. Only one of us would have had paternity rights because our marriage wasn't recognized yet. The Supreme Court made that ruling during the middle of our adoption process. South Dakota would only adopt to a single person or a married couple. We had a great caseworker and homestudy person who set us up with our paperwork so that it was identical, in the event that the Supreme Court ruled in our favor [the court ruled unanimously in 2016 to uphold rights for gay adoptive parents]. When that happened, we combined our license together. That was an exciting time: we could adopt as a family!
We're discussing adopting another kid. We're not sure. The process of adoption is very long. We got Carter in 2015 in July, and the adoption didn't complete until 2017 in May, and that's almost an entire two-year process. To just not know, and sit in limbo and say, "I hope it works out," I think it's a risk for any parent. But we both have siblings. There's a part of us that says that Carter needs the experience of having a sibling. I want him to have that experience.
The new law in South Dakota certainly sits on our shoulders. Can we make decisions based on the unknown? No. But it just sits there. And we can't let it go. It's still right there in the corner of the room — it's the elephant in the corner, and there's nothing we can do except make sure that we keep doing our research and making sure that this isn't happening. If there is some form of taxpayer discrimination happening, then we need to talk to people who can help make this right. We don't want to wonder if we can adopt a kid. That's not what we want. That's sad. We want to be able to build the best family we can possibly build.
The bill in South Dakota doesn't change that we can adopt as a married couple, so far. I'm not an expert by any means, but from my understanding of this new bill that passed last year, a private adoption agency could decide that that couldn't do that. That they wouldn't allow us to adopt or foster a child. Although, all fostering goes through the state.
We were very vocal. I testified at the legislation where the adoption and fostering bill came through. We're extremely worried about it. We don't want taxpayer dollars to go into discriminating against viable families for kids. We want to make sure that every kid gets the family that they deserve. And so, that's an extreme worry for us.
It's not okay to deny a kid a family because of your own personal faith.
I've lived in Brooklyn and Mitchell, South Dakota. They're completely different. It's great to be able to walk in the village and hold hands, but I realize that maybe there are certain places in South Dakota where we're not going to feel safe doing that. There still has to be work done. Mitchell is a small town. 15,000 people. It's pretty midwest mindset, which is fine. There are very caring, but nosy folk. The local newspaper has started doing articles featuring younger couples, to entice people to move back. They approached us to do a story, and we just said, you know that's just not what we do.
But after the Supreme Court decision, we decided to do our story. It was very nerve-wracking to share that story, and wonder how it was going to be taken. We were both working in a community of small people. The day that it was published in the paper was the day that we got the call to get placed for Carter.
It's not easy to go into uncharted territory or go into the unknown. But when we feel comfortable and strong enough to take that big step, we can really start to see it make change. I'm a firm believer in that.
This article was originally published on